Jean Moiras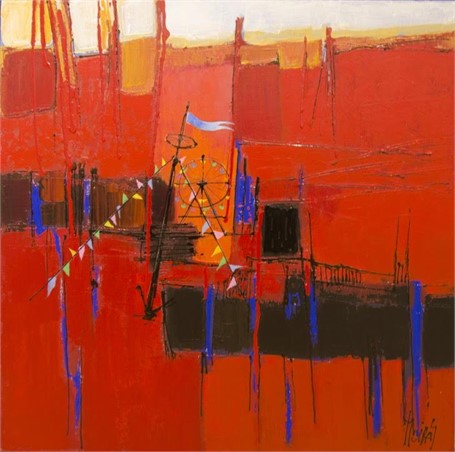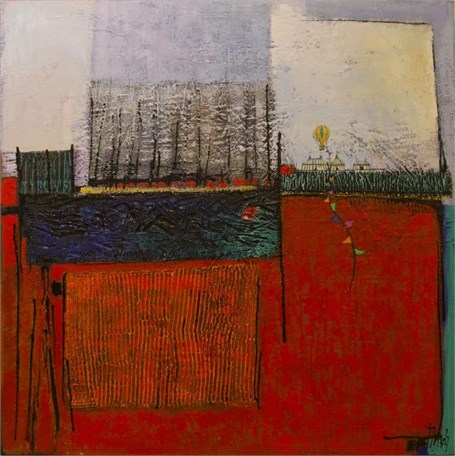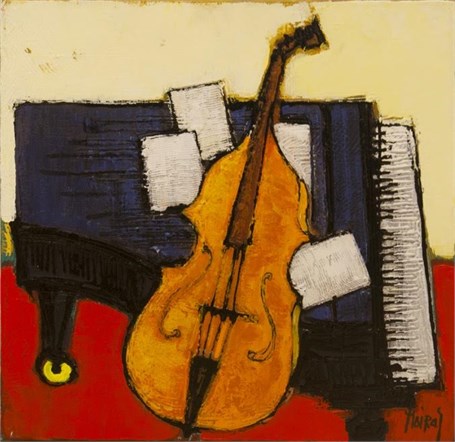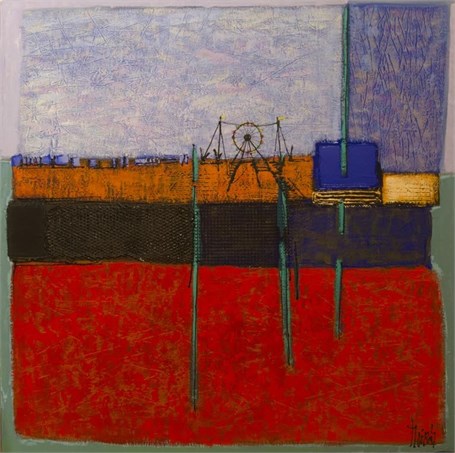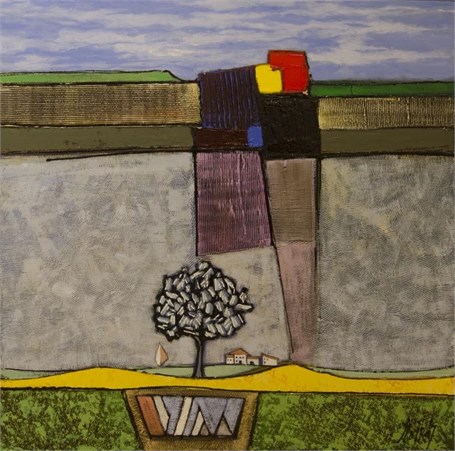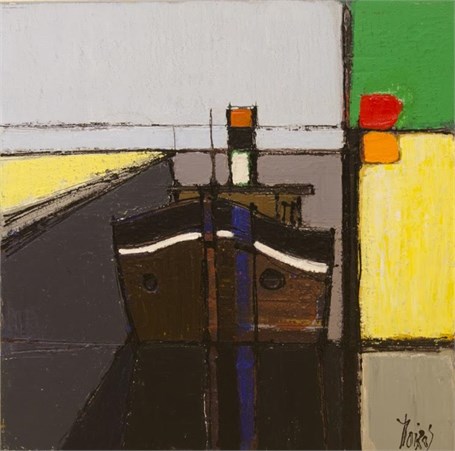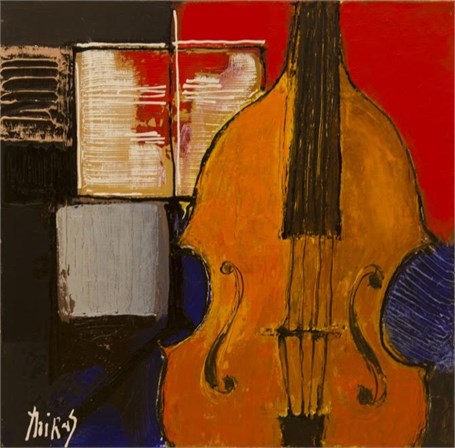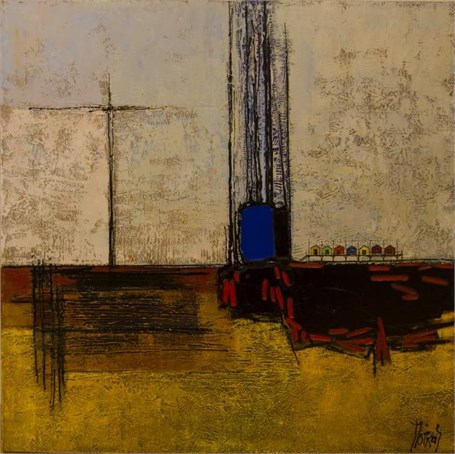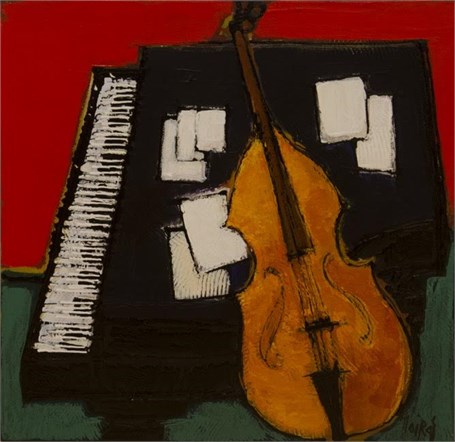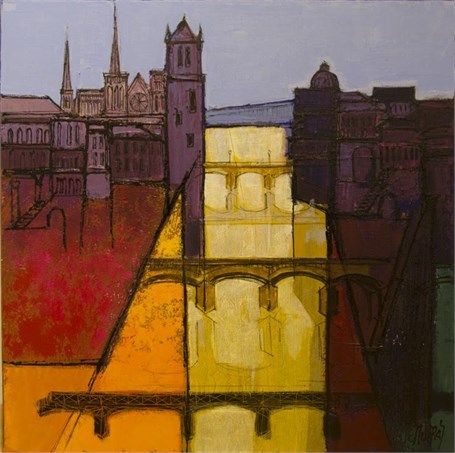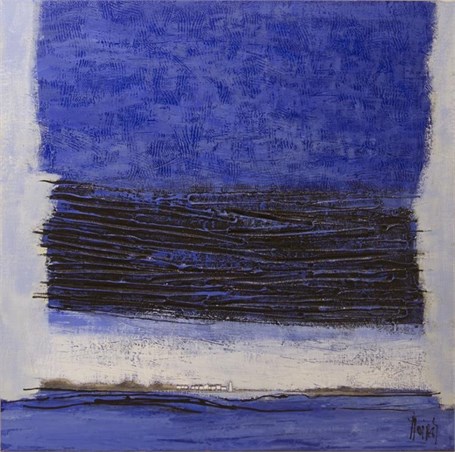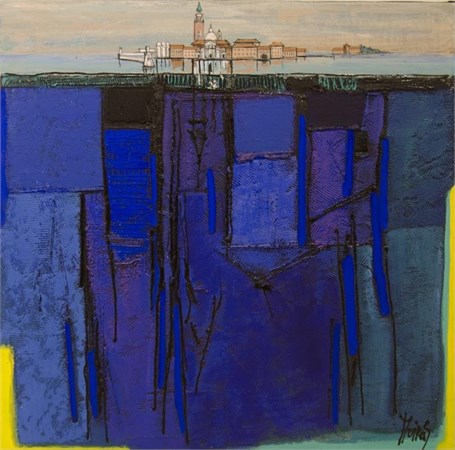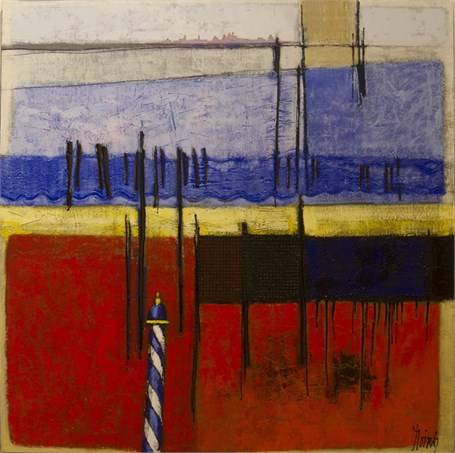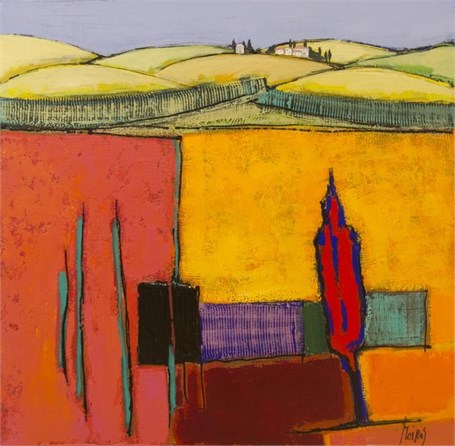 Jean Moiras
(b. 1945, French)
Jean Moiras (pronounced 'mwhar-áhss') is a French modernist painter from the School of Paris. His work is classic mid-20th Century modernism – the period after 'High Modernism' – when representational subject matter came to be mixed with abstraction in a single work of art. Moiras' colleagues in style and subject matter include Bernard Cathelin, Foujita, Richard Diebenkorn, and Wayne Thiebaud, to name just a few. A typical painting by Moiras – be it a land- or townscape, relies for its ground plan on a grid, as in the earliest compositions of Mondrian before he became a non-representational painter.* From this grid, spring abstract 'shadows' of color and forescapes – with more representational subject matter emerging from the painting's horizon lines.
Part of the artist's earliest education was in French polytechnic studies. Thus, an air of archi- tectonics and engineering can undergird the imagery in a Moiras townscape – crisp marine-dock and industrial-plant imagery all the way to domestic interiors and lovely French townscapes in Moiras' 'softer,' more poetic works.
The artist's impasto style combines bravado painterly application with extreme precision. Like Foujita and Manet before him, Moiras makes idiosyncratic use of the value black to create tense outlining that is almost 'wiry' or stained-glass-like. Finally, the hallmark of Modernism – its "push-pull" optical dynamics are in full force in Moiras' work – with color fields and forms proceeding from and receding into the picture plane – a fourth-dimensional aspect of time elapsing in the mind's eye. This is a truly remarkable jump in dimensionality when one considers that a painting's ground is a flat, two-dimensional plane! How uncanny that artists from Picasso to Moiras are able to manipulate formal qualities in a flat work of art to cause its components to move and shift before the eyes of the viewer! – a singular triumph in the theoretics of 20th-century Modernism.
EDUCATION
L'École des Beaux Arts, Paris, France
CAREER
Studio Pierre Simonini, décors for theater, cinema, television in the company of the renowned Maurice Béjart, Nikki de St-Phalle, Jean Tinguely, et al.
SELECTED SOLO SHOWS†
2007 Château de Val, Bort-les-Orgues
2006/'92 Centre d'Art Contemporain, Chamalières
2006/'04/'02/'01 Maison des Comtes, Orcet
2003/'94 Centre d'Art Contemporain, Issoire
2001 Centre Culturel, Montpeyroux
Abbaye des Prémontrés
2000 Espace François Mitterand, Marange Silvange
1996 Château de Pont-Royal, Mallemort de Provence
1994 Museum of Art and Archeology, Aurillac
Maison des Industries, Mulhouse
1986 European Parliament, Strasbourg
1982 Palais des Congrès, Clermont-Ferrand
1975 L'École des Beaux Arts, Clermont-Ferrand
SELECTED GROUP SHOWS
2005 Museum of Contemporary Art, Chamalières
Invité d'honneur des artistes d'Auvergne, Clermont-Ferrand
1993/'86 Museum of Contemporary Art, Chamalières
1990 Barcelona Biennial of Contemporary Art, Spain, Juried Show
1989 French-Canadian Salon, Juried Show, Montreal, Quebec, Canada
Museum of Contemporary Art, Issoire
1987 Palace of the Popes, Avignon, France
1985 National Society of Fine Arts, Paris
SELECTED PUBLIC COLLECTIONS
Chancellery of Universities, Clermont-Ferrand
Faculty of Medicine, Clermont-Ferrand
Counsel General of Puy-de-Dôme
French Embassy, San Salvador, El Salvador
SELECTED PUBLIC & PRIVATE INSTALLATION-COMMISSIONS
Port Camargue, sculpture & mosaic
Offices of the City Council, mosaic, Auvergne
Luitaud Laboratories, Brioude
Mediatech, sculptural fountain, Issoire
School of Architecture, mosaic, Clermont-Ferrand
International Center of Endoscopic Surgery, frescoes, Clermont-Ferrand
Department of Water Purification, mosaic, Le Grau du Roi
Chamber of Commerce and Industry, sculpture and sundial, Clermont-Ferrand
PRIZES, HONORS, & AWARDS
'Medal of Honor,' Chamalières, 2006
'Medal of Honor,' Clermont-Ferrand, 2005/1981
'Medal of Honor of the Counsel-General,' Puy de Dôme, 1996
'Medal of Honor,' public installation, Chamalières
'Silver Medal,' contemporary art, Art Expo, New York, NY
'Vulcan Prize,' public installations, Auvergne/Puy de Dôme
'Young Artist Prize,' Denges Exhibition of Art, Lausanne, Switzerland
*The general outline of Modern Art suggests that at the turn of the 19th to 20th centuries, representation slowly gave way to pure abstraction, only to later – at mid-20th Century – return to representation in hybrid forms, as discussed here.
†all in France, unless otherwise noted