Amy Nelder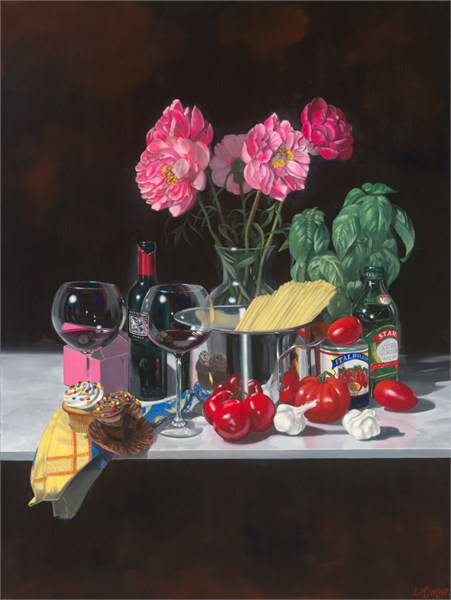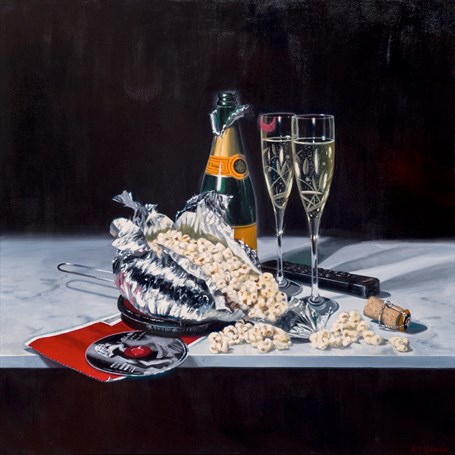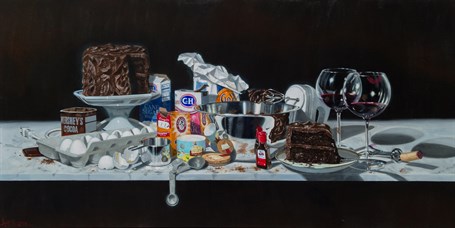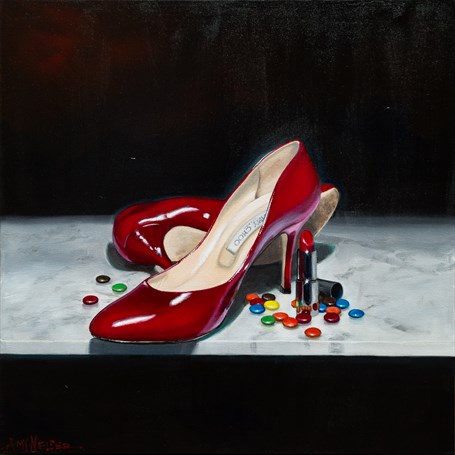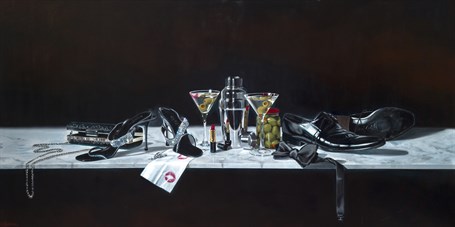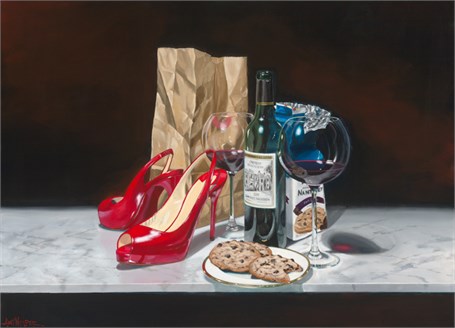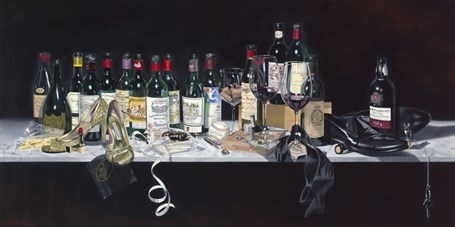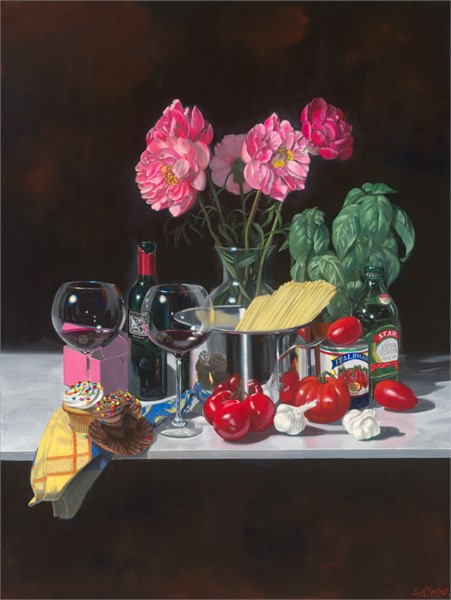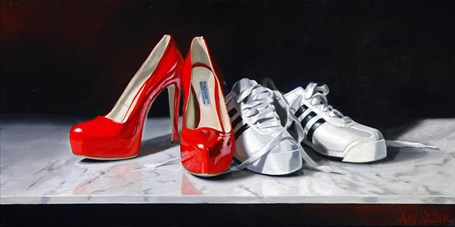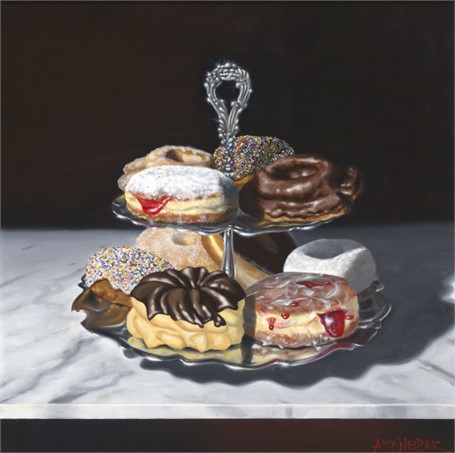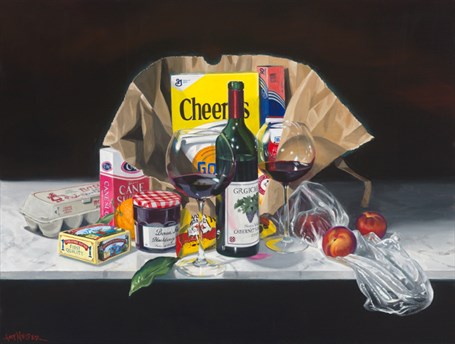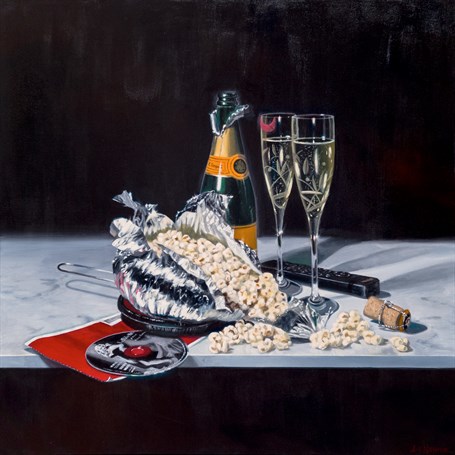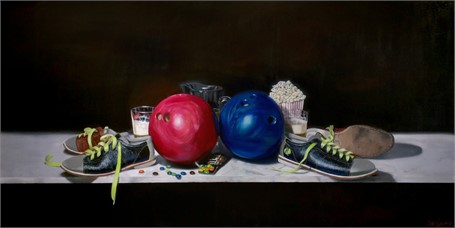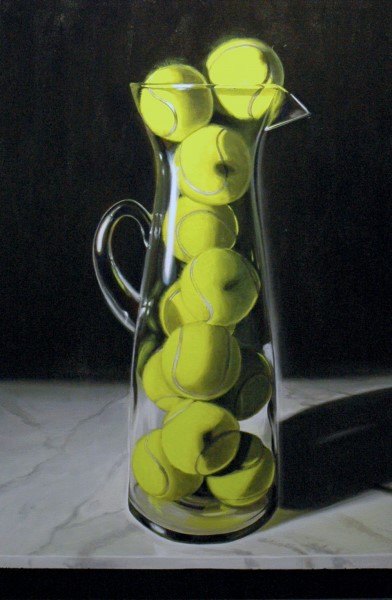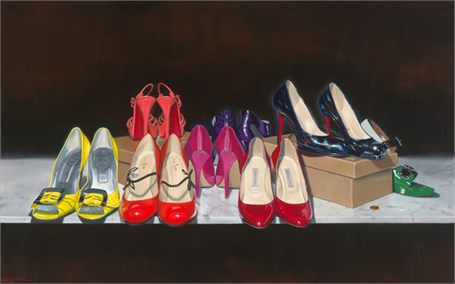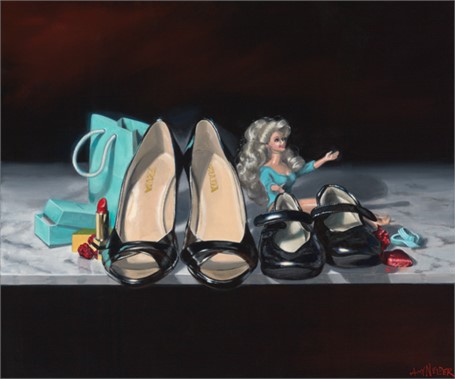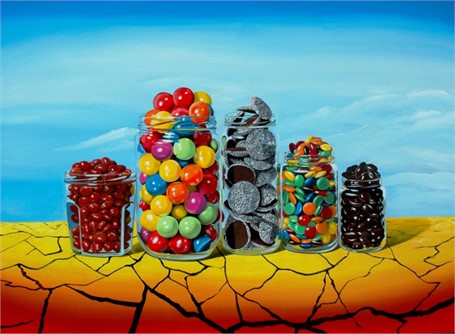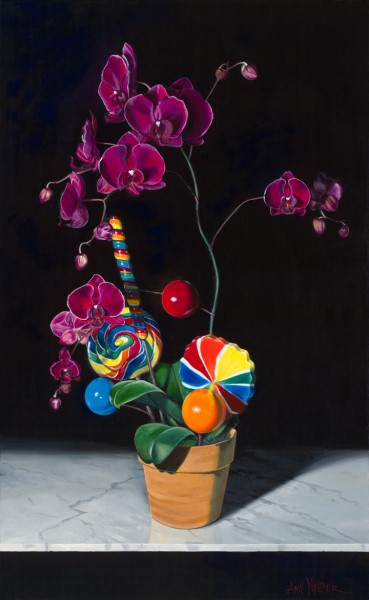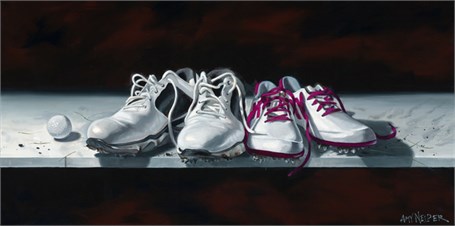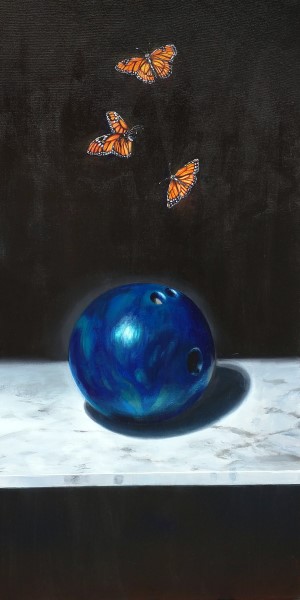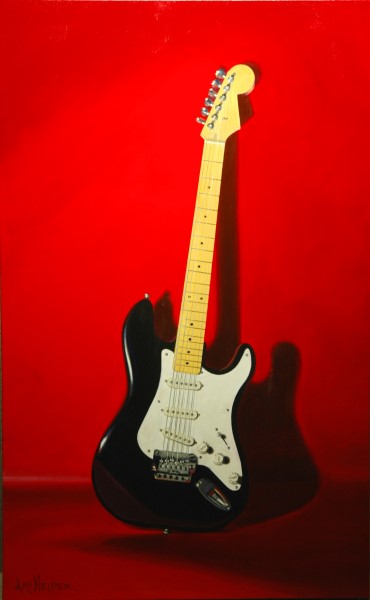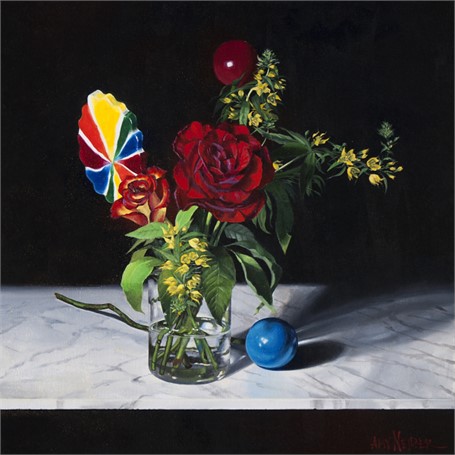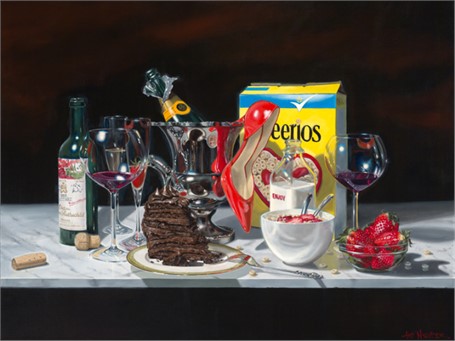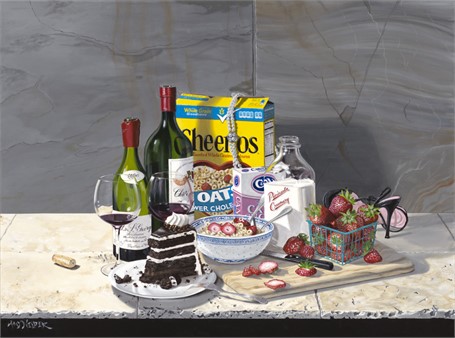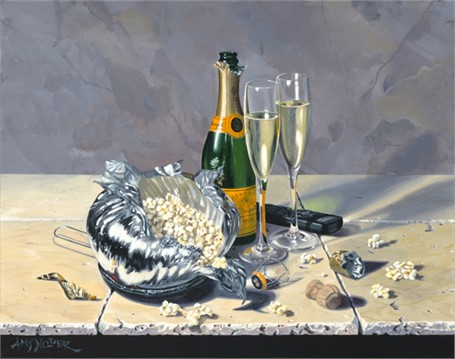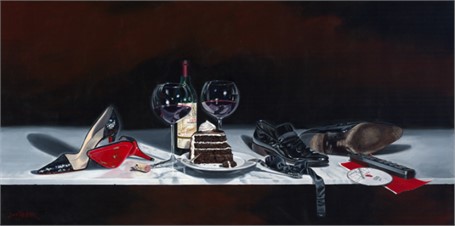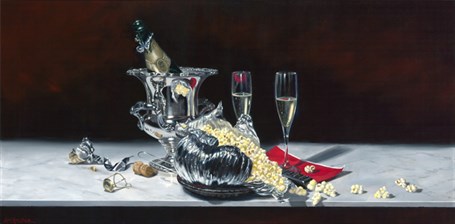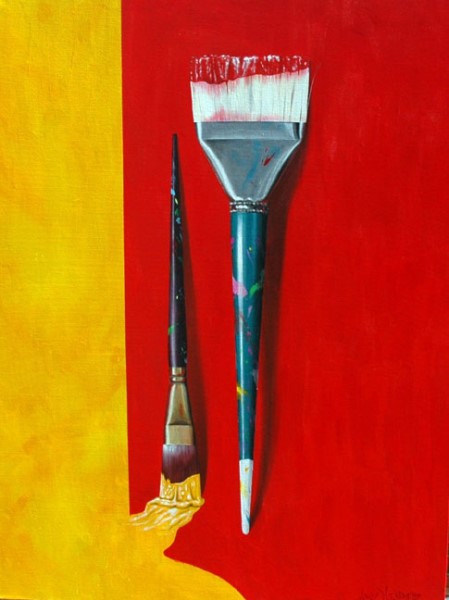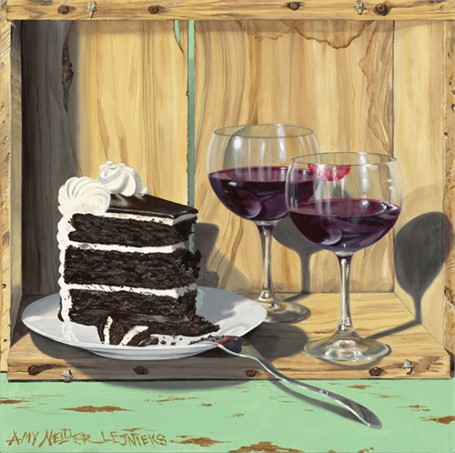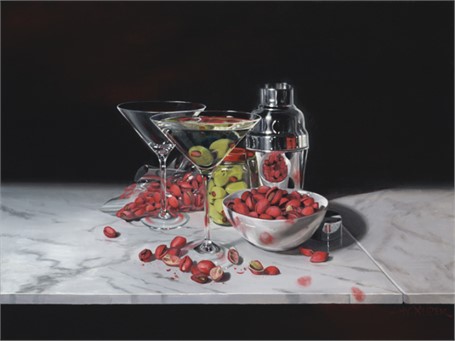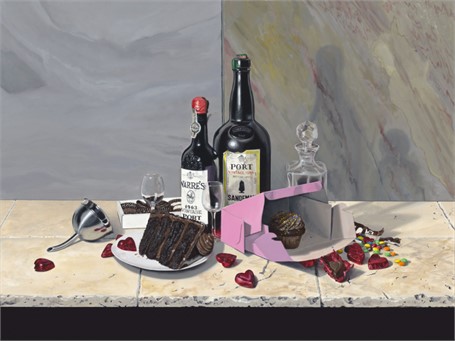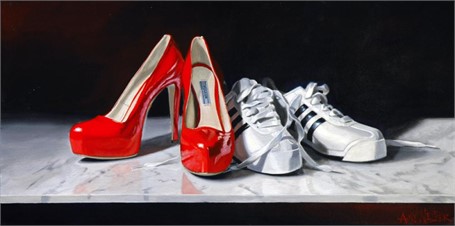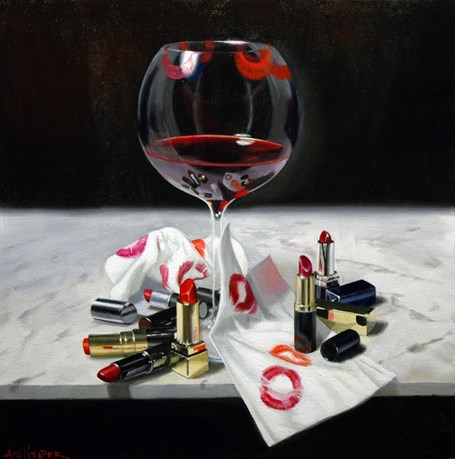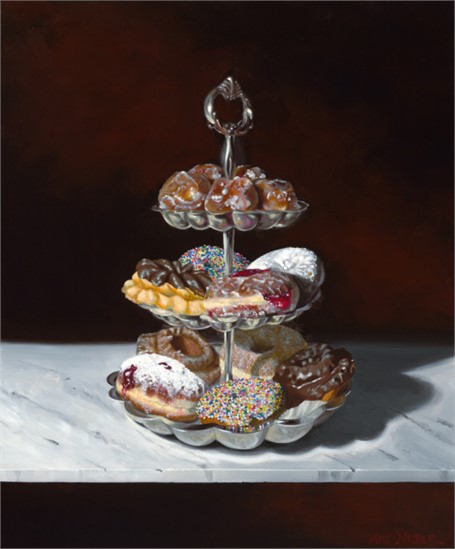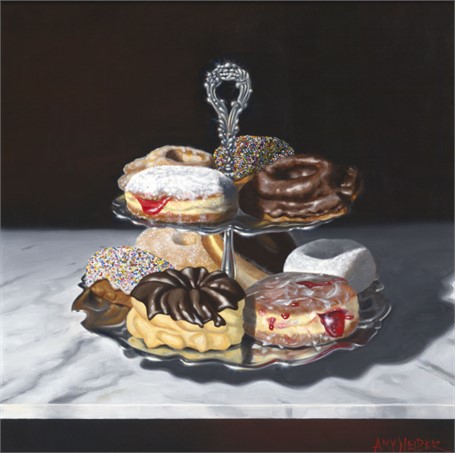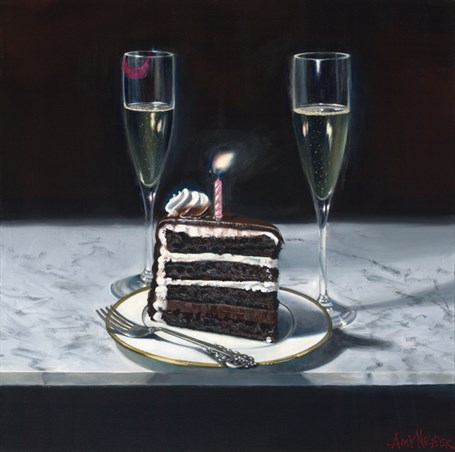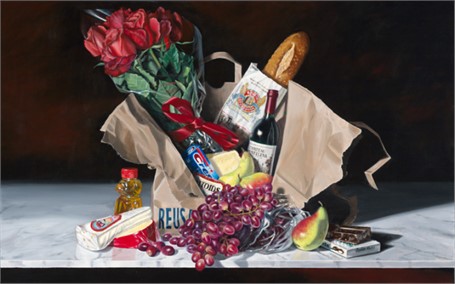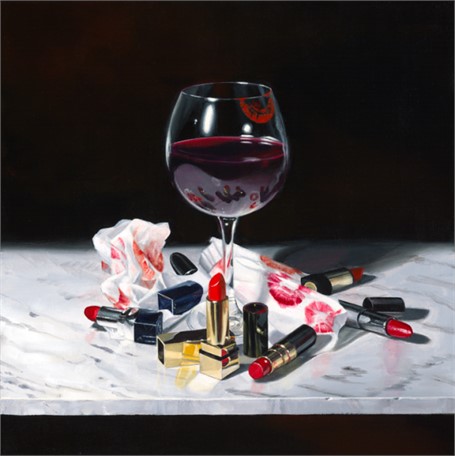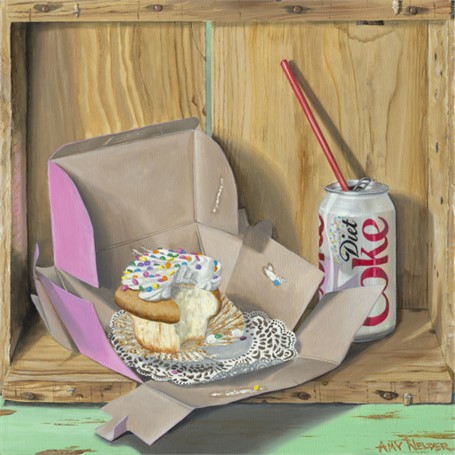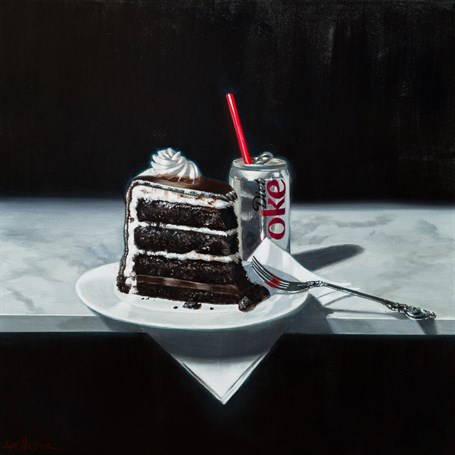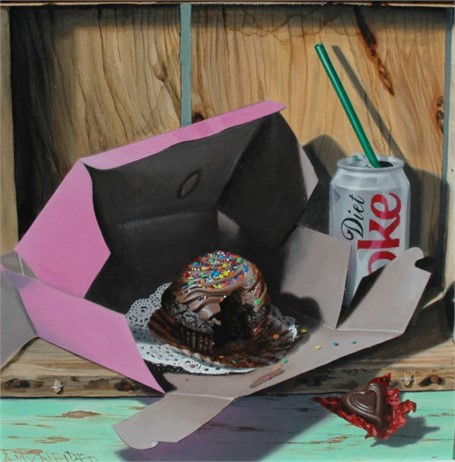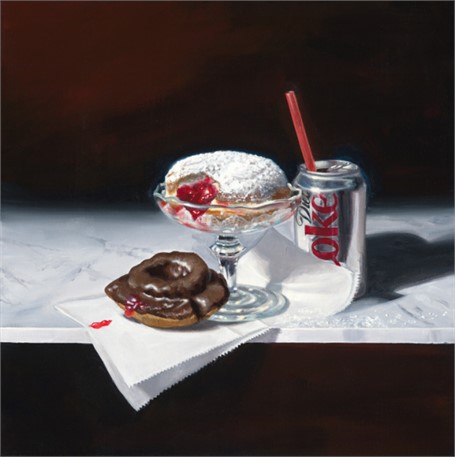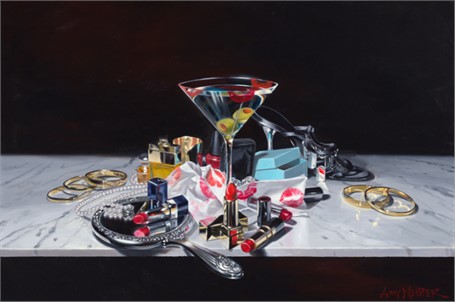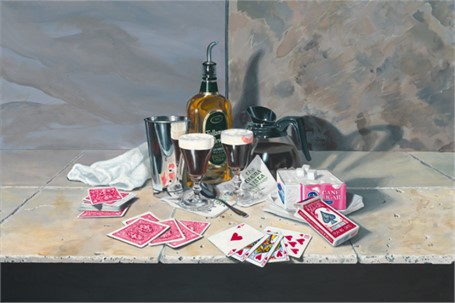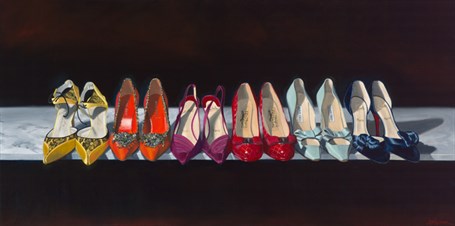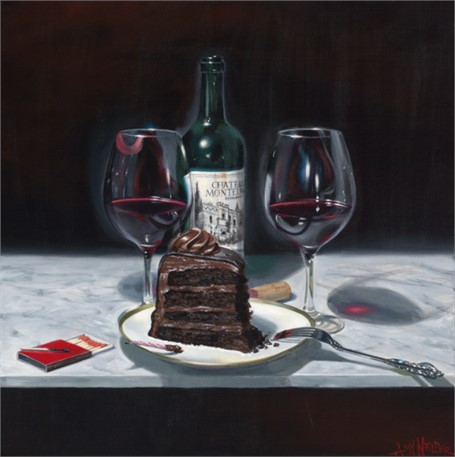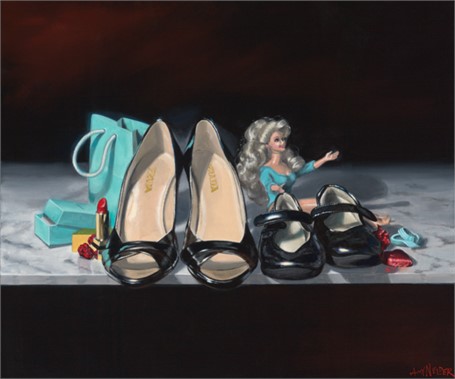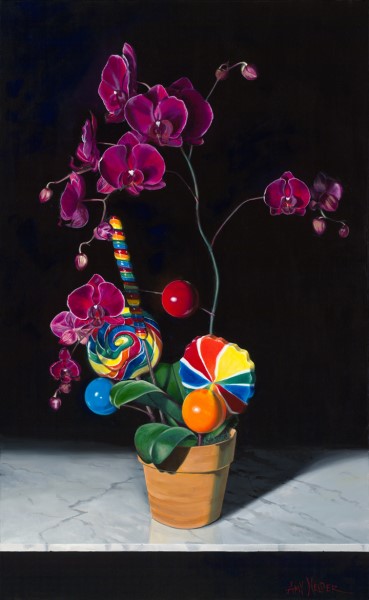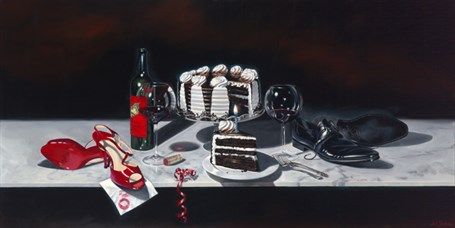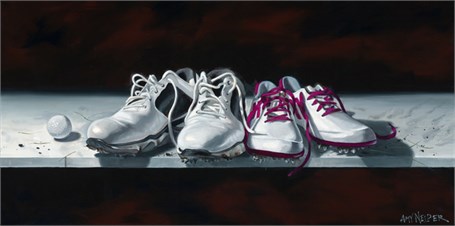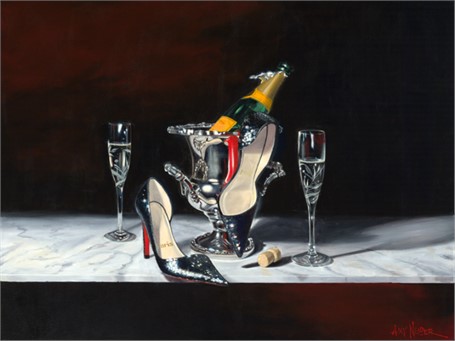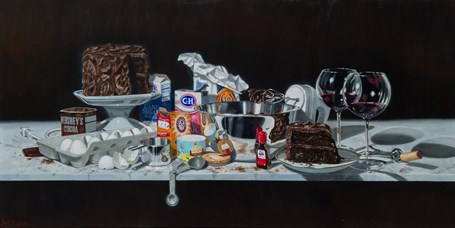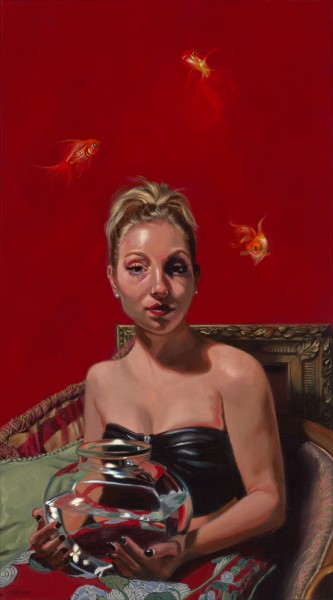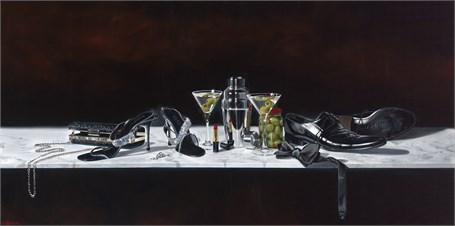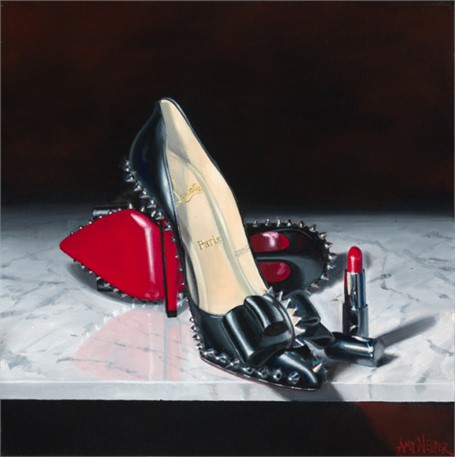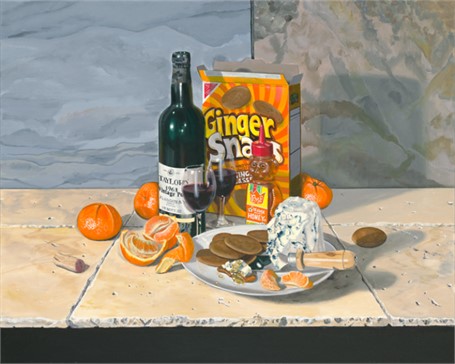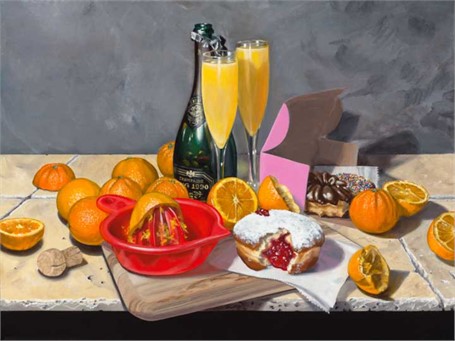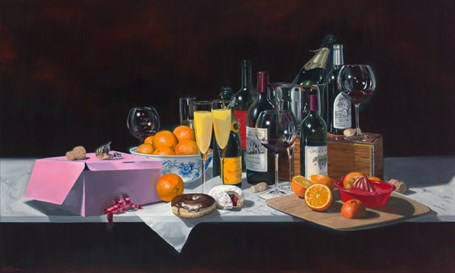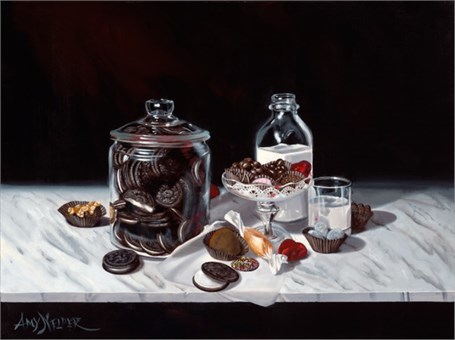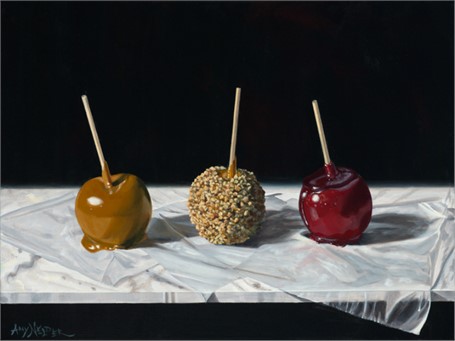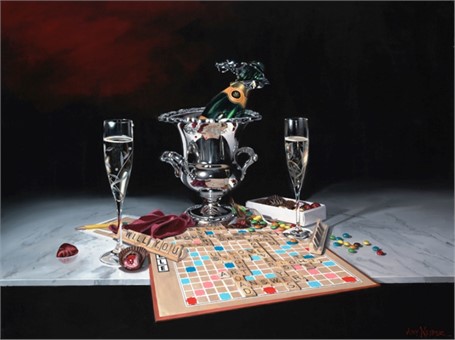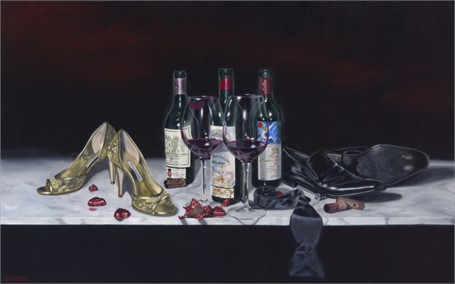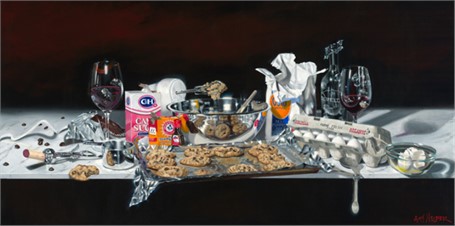 Amy Nelder
(b. 1971, American)
Amy Nelder is a versatile painter of diverse genres, who has been engaged in the last several years with "contemporary" still-life painting.
Critics and art writers have credited Nelder with radically updating the nature of today's still life to leave behind what one might call the hackneyed, old-fashioned subject matter of yore – bunches of grapes and flowers, for example – to replace it with hip, debonair, au courant imagery. While Old Master still lifes may fetch millions of dollars, executed in the most expert and astonishing ways, the time has come, these observers claim, for the still life to speak to today's audience in today's effervescent language.
Nelder meets the challenge with her Pop-oriented, romance-skewed set ups, wherein lipstick-kissed wine glasses meet Scrabble boards and designer party shoes, tossed aside with black tie, amidst scrumptious chocolates and desserts – not to mention the occasional cereal box or champagne bottle – tradenames and all!
The point to her works is that, 'off-screen,' if you will, there is a love affair of some sort going on – some off-the-canvas bedroom cavort that the viewer can't actually see, but can feel, given the savvy evidence of what she does record in her paintings. Thus, a portrait of a blissful couple is recorded with a kind of hipster synecdoche – the Greek concept in poetics of using stand-in symbols to represent a bigger, more meaningful whole. "The hand of God" or "the kiss of fortune" are two common examples of synecdoche.
Of course, in Nelder's world all is good fun, spice, and savoir-faire, mixed with sexy riddles and loveable overtures and undertones. Whomever she is portraying, without actually showing them, the viewer relates and wants, in fact, to be in on one of Nelder's devil-may-care duos!
Once in a while, she'll depart from the implied "couple" motif to present an off-canvas individual grappling with the attraction or aftermath, God forbid, of a cupcake to devour or not to devour! And so on, calorie-counting, be hanged! Or, we are presented with the charming leit-motif of a Mom and Dad homebound with affection, due to little ones sleeping.
Here is a truly superb draughtsman, who can draw like an Old Master, while at the same time delivering a still life genre that is all about the hip here and now. In her San Francisco studio, one is treated to seeing Nelder's actual still life props, set up on a table. Watching her transmit the model's image to canvas with stunning realist accuracy is both fascinating and uncanny. She purposely seems to pick the hardest subject matter to conquer: sterling silver, glass with its many-faceted reflective qualities, elaborate typefaces curving round bottles, and the like. Here is a Raphael realist, whose subject happens to be cuddly cupidity, pulled off with amazing chic and glamour, yet as down to earth as your last date (off-screen, of course!).
SELECTED COLLECTIONS
Zurich Insurance, corporate collection, NYC, NY
Sports Engineering and Recreation Asia, LTD, Bangkok, Thailand
Buena Vista Café, San Francisco, CA
Tosca Café, San Francisco
GESD Capital Partners, San Francisco
Club Wingtip, society club, San Francisco
COMMISSIONED MURALS
Chinese Charity Cultural Services Center, Chinatown, San Francisco
San Francisco Board of Education, Executive Administration Building
State of California Family Support Bureau, San Francisco
District Attorney's Services Center, San Francisco
SELECTED MEDIA
San Francisco Chronicle
San Francisco Examiner
KPIX, "Evening Magazine"
CNN, Fox News, MSNBC networks
Art Business News magazine
Art World News magazine