Joe Coffey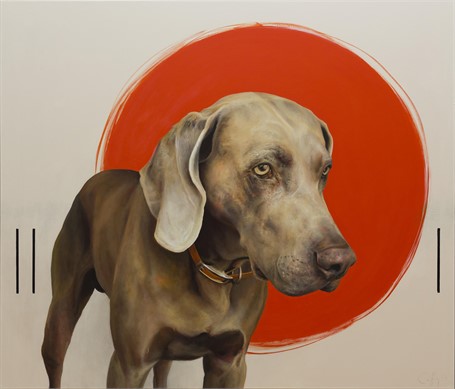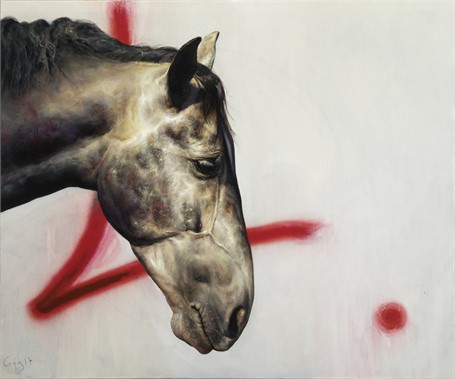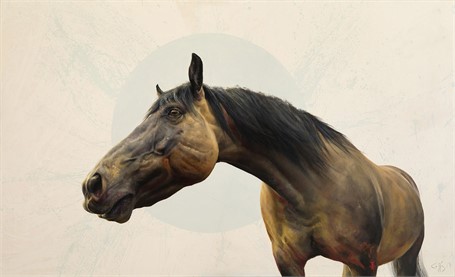 JOE COFFEY


(b. 1966, Canadian)


Joe Coffey was born in 1966 and grew up in Caledon, Ontario, at the time a rural enclave just outside of Toronto where four generations of his family had farmed. His earliest memories are of drawing and painting the people and animals around him. Indeed, that has continued up until the present time.

He is a bit of a magpie as far as the influences that have shaped the direction of his work. As a child Coffey attended his old Catholic church with its strange Neo-Gothic design and its statues, and he found it both captivating and haunting. He has also had a lifelong love of history and the countless stories of the men and women who helped shape it. Current pop culture, news and the varied music that he listens to while painting in his studio--these are just a few things that fire his imagination and makes the process of working a highly engaging experience.
However, it still comes down to being inspired by the subject and objects in his paintings. How or why someone makes him want to paint them is hard to put in words and perhaps need not have any explanation. Coffey would say that in choosing his subjects, he strives to portray a sculptured expressiveness, yet he also likes to fix his subjects in a tension which can either be static, dynamic or, ideally, both. Joe Coffey has a theatre background, in fact as a young man he believed he would become an actor, and so drama still informs his work. He has been an exhibiting artist for the past 20 years: his work hangs in commercial galleries in Toronto, Calgary and Victoria. Joe Coffey's paintings can be found in private and corporate collections in Canada, the United States, France, Switzerland and the United Kingdom. HeI now lives and works from his studio in Victoria BC.
AWARDS

2017 Shortlisted for The Kingston Prize for Canadian Portraiture

2015 Shortlisted for The Kingston Prize for Canadian Portraiture

2001 Juror's Choice Award, Annual Juried Show, Sooke Fine Arts, Sooke, BC

2000 Juror's Choice Award, Annual Juried Show, Sooke Fine Arts, Sooke, BC

1999 Juror's Choice Award, Annual Juried Show, Sooke Fine Arts, Sooke, BC
EXHIBITIONS

Solo Exhibitions

2016 Symbiosis, Winchester Galleries, Victoria, BC

2014 Living Room Stories, Winchester Galleries, Victoria BC

2013 New Works, Winchester Galleries, Victoria

2012 Chasing Peacocks, Winchester Galleries, Victoria BC

2011 New Works, Granville Fine Art, Vancouver BC

2010 New Works, Winchester Galleries, Victoria BC

2009 New Works, Virginia Christopher Fine Art, Calgary AB

2008 Gods and Monsters, Winchester Galleries, Victoria BC

2008 Monologues, Linda Lando Fine Art, Vancouver BC

2007 Masquerade Ball, Winchester Galleries, Victoria, BC

2007 Horses and Where they Roam, Virginia Christopher Fine Art, Calgary, AB

2006 Motherload, Linda Lando Fine Art, Vancouver, BC

2003 Route 66, Fran Willis Gallery, Victoria, BC

2001 New Work, Kensington Fine Arts, Calgary, Alberta

2000 New Work, Alexander's, Sidney, BC

Group Exhibitions

2017 Finalist Exhibition, The Kingston Prize for Canadian Portraiture

2016 Figurative Exhibition, Gallery Gevik, Toronto, Ontario

2015 Finalist Exhibition, The Kingston Prize for Canadian Portraiture

2014 Splash, Arts Umbrella, Vancouver, BC

2013 Jingle Mingle, BC Cancer Foundation Fundraiser, Victoria, BC

2013 Jingle Mingle, BC Cancer Foundation Fundraiser, Victoria BC

2013 Splash, Arts Umbrella, Vancouver, BC

2012 Splash, Arts Umbrella, Vancouver, BC

2010 Contemporary Artists Show, Granville Fine Art, Vancouver, BC

2010 Art for Life - Fine Art Auction, Vancouver, BC

2010 Drawing Aspects, Granville Fine Art, Vancouver, BC

2007 Art for Life - Fine Art Auction, Vancouver, BC

2006 Art for Life- Fine Art Auction, Vancouver, BC

2003 Art for Life- Fine Art Auction, Vancouver, BC

2003 Raven/Shapeshifter, Fran Willis Gallery, Victoria, BC

2003 Summer Selections, Fran Willis Gallery, Victoria, BC

2003 Clothes Line Show, Fran Willis Gallery, Victoria, BC

2002 Christmas Show, Fran Willis Gallery, Victoria, BC

2002 Summer Selections, Fran Willis Gallery, Victoria, BC

2002 Annual Juried Show, Sooke Fine Arts, Sooke, BC

2001 Exhibiting Gallery Artists, Fran Willis Gallery, Victoria, BC

2001 The Gift of Art, Fran Willis Gallery, Victoria, BC

2001 Group Exhibition, John Ramsay Gallery, Vancouver, BC

2001 Anniversary Show, Peninsula Gallery, Sidney, BC

2001 Group Show, Kensington Fine Art Gallery, Calgary, AB

2001 Annual Juried Show, Sooke Fine Arts, Sooke, BC

2000 Annual Juried Show, Sooke Fine Arts, Sooke, BC

2000 Juried Regional Show, Island Visions, Sidney, BC

2000 Between the Trees, Pender Island, BC

2000 Arting Around III, Pender Island, BC

1999 Annual Juried Show, Sooke Fine Arts, Sooke, BC

1999 Between the Trees, Pender Island, BC

1999 Arting Around II, Pender Island, BC

1998 Friends for Life, Benefit Exhibition, Vancouver, BC

1997 Friends for Life, Benefit Exhibition, Vancouver, BC
PUBLICATIONS AND FEATURES:

Print

2013 Owens, Yvonne. 'Joe Coffey: Artist Guy,' in Vie des Arts Journal

(March: Artist's Feature Article)

2003 Amos, Robert. 'Pender Island Artist at Fran Willis Gallery,' Victoria Times Colonist

(June: Review).

2001 Amos, Robert. 'Victoria Galleries: Christmas Shows,' Victoria Times Colonist.

(December: Review)

2001 Amos, Robert. 'Group Show Exhibitors,' Victoria Times Colonist.

(September: Review)

2001 Poster, featured work for promotion materials; Annual Juried Show,

Sooke Fine Arts, Sooke, BC

Television

June 2003 GO! Chek TV, Magazine Show, Victoria, BC

December 2001 GO! Chek TV, Magazine Show, Victoria, BC