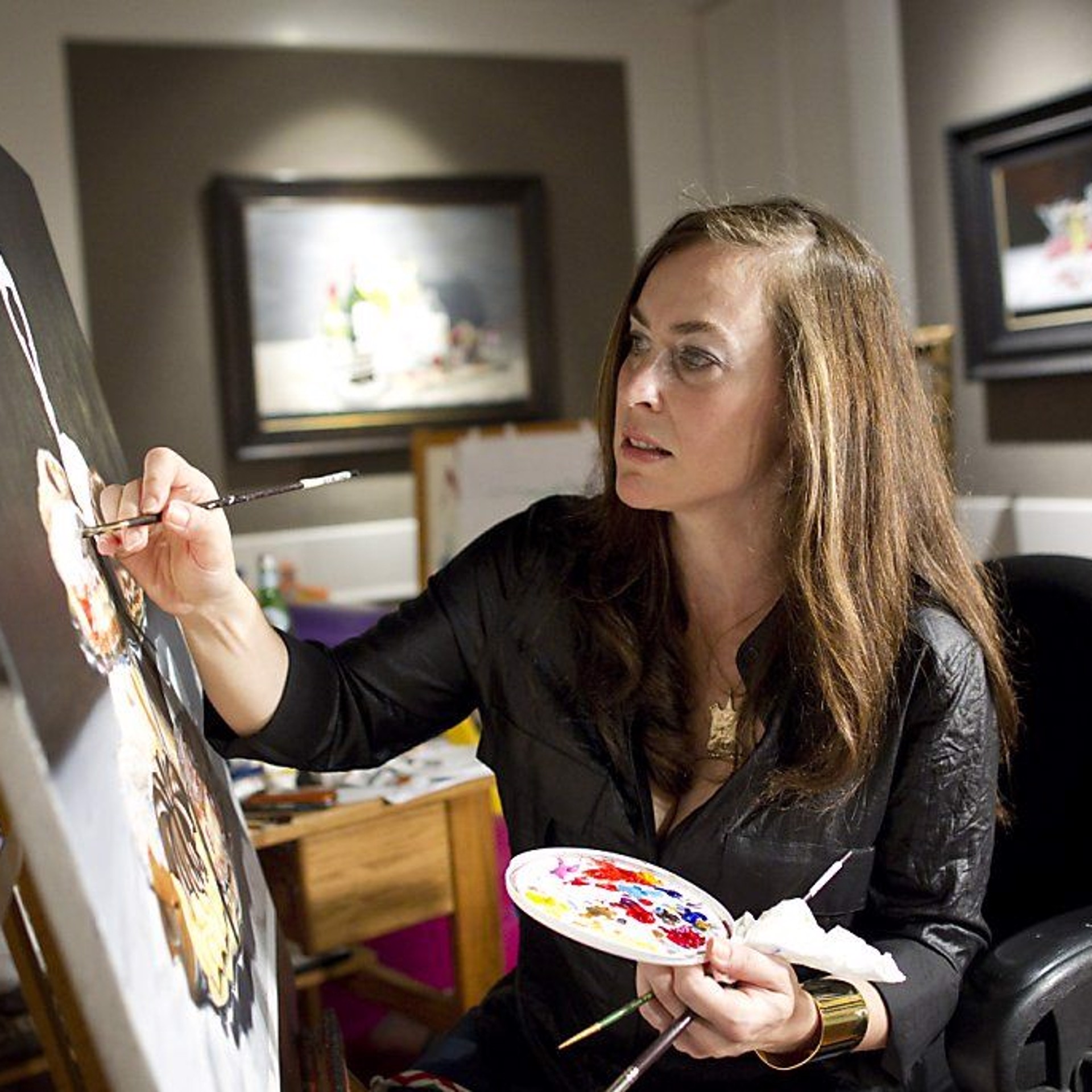 AMY NELDER
(b. 1971, American)
Born in 1971 in San Francisco, painter Amy Nelder calls her work "Pop Trompe L'oeil." Employing high realism infused with pop au courant imagery, she celebrates otherwise unsung domestic moments or conveys a message of dramatic, sometimes contemporary socio-political, import – but with a sense of lightness and often facetious. She paints beautiful imagery, but there is always a story to her painting. She seeks to convey the subtle but meaningful layers of simple human interaction, to impart appreciation of the joys, and ironies, of our lives. Nelder's more recent still lifes have expanded into global commentary, including her Covid19Art, Bunnies and Guns and Build-Your-Own Eden series on psychic autonomy.
The message is important, but she is simultaneously concerned with precision of technique, accuracy of detail and excellence of craftsmanship. Nelder studied at the University of California at Berkeley, as well as the FBI Academy in Quantico, Virginia. Early in her career, she was the Forensic Artist for the San Francisco Police Department, working primarily with survivors of violent crimes as well as creating facial reconstructions of decomposed or skeletonized remains for the Medical Examiner's Office.
Nelder now focuses entirely on her own fine art. A trained opera singer from ages 9 – 20, she notes the musicality in her paintings, that her way of feeling color is rhythmic and lyrical. She experiences a painting as a symphonic composition.
Upcoming exhibitions include Expressions West at the Coos Art Museum, Bend, Oregon; National Exhibition, Haggin Museum, San Joaquin, California; Women in Art: GREAT Artists who just Happen to be Women at Chloe Gallery, San Francisco; and ArtMarket San Francisco 2022. Nelder is an invited panelist for Gen-erate at SITE Santa Fe, Santa Fe, New Mexico. Her work is now streaming on "Amy Nelder Artist Channel" on LOUPE (globally on AppleTV, Amazon Fire, Pluto TV, Xumo, Samsung, Comcast and Xfinity).
EXHIBITIONS
2025 Musee des Beaux Arts, "The Life of Objects," Valenciennes, France - UPCOMING
2024 Solo Exhibition, Grants Pass Museum, Grants Pass, OR - UPCOMING
2023 London Art Biennale, London, England
2023 Art Market San Francisco Art Fair, Chloe Gallery, San Francisco, CA
2023 Chloe Gallery, Women in Art: GREAT Artists who just Happen to be Women 2023, San Francisco, CA
2023 Tambaran Gallery, Park Avenue Armory: The Winter Show, New York, NY
2023 Walt Disney Family Museum, Spirit of the Season, San Francisco, CA
2023 Masur Museum, 60th Annual Juried Competition, Monroe, LA
2023 Pyramid Hill Sculpture Park & Museum, Here and Now, Hamilton, OH
2022 Chianciano Biennial in Tuscany, Chianciano Art Museum, Chianciano, Tuscany, Italy
2022 Northern Illinois University Art Museum, Stories from My Childhood, DeKalb, IL
2022 Cedarburg Art Musum, Objects of Desire, Cedarburg, WI
2022 Metro Montage XXII at the Marietta Cobb Museum in Georgia
2022 Cape Cod Museum of Art, All the World's a Stage, Dennis, Massachusetts,
2022 Coos Art Museum, Expressions West 2022, Coos Bay, Oregon,
2022 Haggin Museum, 61st Juried Exhibitionat the Haggin Museum, Stockton Art League, Stockton, CA
2022 SITE SANTA FE, Sante Fe, New Mexico, SANTA FE, NEW MEXICO
2022 Art Market San Francisco Art Fair, Chloe Gallery, San Francisco, CA
2022 Chloe Gallery, Women in Art: GREAT Artists who just Happen to be Women 2022, San Francisco, CA
2022 Gen-erate, SITE Santa Fe, Santa Fe, New Mexico
2021 Walt Disney Family Museum, Conserving the Magic of our Planet, San Francisco, CA
2021 Blue Line Arts, Wild Dreams of a New Beginning, Roseville, CA
2021 Chloe Gallery, Women in Art: GREAT Artists who just Happen to be Women 2021, San Francisco, CA
2021 Chloe Gallery, The SUGAR Show, San Francisco, CA
2021 Chloe Gallery, The Summer Show 2021, Kenwood, Sonoma, CA
2020 The de Young Open, de Young Museum, San Francisco, CA
2020 The World of Tomorrow, Walt Disney Family Museum, San Francisco, CA
2020 The Garzoni Challenge: 90 works by Baroque artist Giovanna Garzoni and her contemporaries, Uffizi Galleries, Florence, Italy in partnership with Advancing Women Artists and the Medici Archive Project
2020 Chloe Gallery, Women in Art: GREAT Artists who just Happen to be Women, San Francisco, CA
2019 Chloe Gallery, Art Market San Francisco, San Francisco, CA
2019 Chloe Gallery, Women in Art: GREAT Artists who just Happen to be Women, San Francisco, CA
2018 Chloe Gallery Art and Winemakers' Group Exhibition: Amy Nelder, Carrie Graber, Timothy Mulligan and James Scoppettone, San Francisco, CA
2018 Chloe Gallery, Women in Art: GREAT Artists who just Happen to be Women, San Francisco, CA
2018 Chloe Gallery, Art Market San Francisco, San Francisco, CA
2017 Chloe Gallery, Art Market San Francisco, San Francisco, CA
2017 Chloe Gallery, Art and Winemakers' Group Exhibition: Amy Nelder, Robert Bissell, Aldo Luongo, Rene de Carlo, San Francisco, CA 2016 Chloe Gallery, Art and Winemakers' Group Exhibition: Amy Nelder, Aldo Luongo, Isabel Emrich, Cheryl Kline and Mark Yale Harris, San Francisco, CA
2015 Chloe Gallery, Banquet with the Artists: Ideation and Innovation, San Francisco, CA
2015 Chloe Gallery, Art and Winemakers' Group Exhibition: Amy Nelder, Carrie Graber, Aldo Luongo, and Mark Gaskin, San Francisco, CA 2014 Chloe Gallery, Chloe Gallery Anniversary Exhibition, San Francisco, CA
2014 Chloe Gallery, Art and Winemakers' Group Exhibition - Celebrating the Valley: Amy Nelder, Aldo Luongo, Gil Bruvel, Carrie Graber San Francisco, CA
SELECTED COLLECTIONS
Thin Man Investment Holdings (Pty) Ltd, South Africa
Vanillamore Dessert Kitchens, Montclair, NJ
Zurich Insurance, corporate collection, NYC, NY
Sports Engineering and Recreation Asia, LTD, Bangkok, Thailand
Buena Vista Café, San Francisco, CA
Tosca Café, San Francisco
GESD Capital Partners, San Francisco, CA
Club Wingtip, society club, San Francisco, CA
The Women's Art Library Special Collections and Archives The Library Goldsmiths, University of London New Cross, London
Deerfield Ranch Winery, Kenwood, CA
Levi Strauss, Branding Archives, San Francisco, CA
Kala Art Institute, Berkeley, CA

COMMISSIONED MURALS
Chinese Charity Cultural Services Center, Chinatown, San Francisco
San Francisco Board of Education, Executive Administration Building
State of California Family Support Bureau, San Francisco
District Attorney's Services Center, San Francisco

SELECTED PRESS and MEDIA
"Bigger Than Warhol," Gival Press, Spring 2022
ArLijo - the arlington literary journal, givel press, Issue 160, May 2022
"Paintings of Amy Nelder," Pigeon Review Literary Journal, March 2022
"Last Round," Chestnut Review, Spring 2022
"Amy Nelder Artist Channel," LOUPE, February 2022
"Amy Nelder," Artdose Magazine, January 16, 2022
"Feature: Amy Nelder," Magazine 43, Berlin, Hong Kong, Manila, December 2021
"How Contemporary Artists Are Making Still Life Art Cool Again," Artsper Magazine, November 25, 2021
"Walt Disney Family Museum," Marina Times, July 2021
"Viewing Online Exhibition from The Walt Disney Family Museum," The Wick, April 2021
"De Young Open: Curatorial walkthrough with exhibition curator Timothy A. Burgard," film, de Young Museum, San Francisco, California
"Exhibit at SF's de Young Museum tells story of 2020 through artists' eyes," abcnews.com, October 6, 2020
"de Young Open to showcase works of hundreds of artists at critical time for creativity," Tony Bravo, Datebook, August 1, 2020
"What is The Garzoni Challenge,? Advancing Women Artists News, August 2020
"The Garzoni Challenge Continues: The Art Dialog Continues Worldwide, (Sampling Part 2)", Advancing Women Artists Foundation Youtube channel, June 26, 2020
"Giovanna Garzoni – A Baroque Painter Inspires an Art Challenge," Alexandra Kiely, Daily Art Magazine, April 1, 2020
"Giovanna Garzoni – A Baroque Painter Inspires an Art Challenge," Art Money Provenance, April 2020
"Top attractions in Chinatown," Marlene Goldman, Jasmine J. Jopling, SFGATE, San Francisco Chronicle, July 7, 2017
"Yountville gallery owners present contemporary artists," Jennifer Huffman, Napa Valley Register, June 17, 2014
"San Francisco's Chloe Fine Arts gallery opens new digs in the Napa Valley – Los Angeles travel art report," Pauline Adamek, Arts Beat LA, 2014
"Amy Nelder's New Take on Life, Art," Art World News, 2012
"Catching Up with Amy Nelder: From Police Sketch Artist to Fine Art," Sam Whiting, SFGATE / San Francisco Chronicle, October 6, 2011
"Art that Continues to 'POP'! The Iconic Genre Continues to Reflect the Mass Culture Around Us," Catherine Klene, Art Business News Magazine, November/December 2010
"Pop Art's 'fizz' stays potent: today's artists bubble with enthusiasm over Pop Art's success and where it's going from here," Joe Janczurak, Art Business News Magazine, 2007
"Police sketch artist tracks artistic serial killer," Eddie Muller, SFGATE, San Francisco Chronicle, April 1, 2007
"OAKLAND / Artist sketches girl from body in bag," San Francisco Chronicle, May 10, 2003
"Studio Visit with Amy Nelder," KPIX-TV, San Francisco Evening Magazine, San Francisco, California, 2003
"Drawing Attention to Crime / Forensic artist Amy Nelder's "fugitive enhancement" sketches get results," Sam Whiting, Living Magazine/San Francisco Chronicle, January 12, 2003
Read More