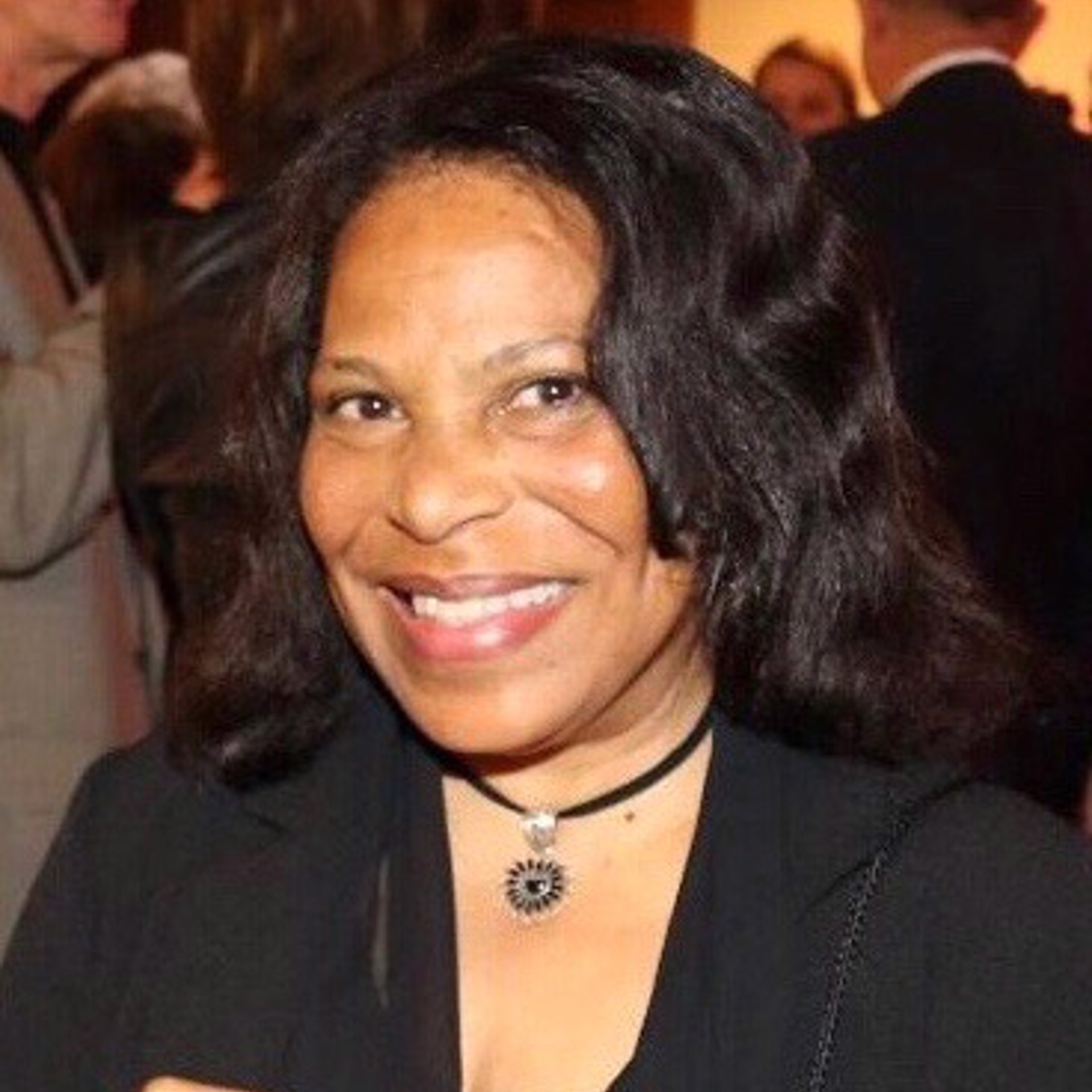 I am a mixed media fiber artist. I choose to express myself through quilts because of its personal connection to my ancestors and Southern roots. I find there are qualities inherent in art made of fabric and thread: the depth of the colors, the layers, and the texture of the stitches, that can't be duplicated in another medium. I construct collage-like art quilts using fabrics which I pattern with a variety of surface design processes. The surface is layered with machine stitching, hand embroidery, paint, transferred images, found objects and graphite drawings. My graphite figures are drawn on unprimed canvas. I use a scale of pencils from HBs and 8Bs. My figure renderings come from live models, and photographs based on legendary and people of personal importance, such as my 98-year-old mother, sisters, and friends. It is typical for my quilts to contain vintage and re-claimed garments, as well as nostalgic materials transforming my figures into ancestors that tell stories from another time. I typically use an applique process that starts with a self-designed template and fabric that is sewn directly to the quilt top.
It is characteristic of my work to focus on themes from the Antebellum South that address past taboos and controversial issues. Conversations with my mother, grandmother, and aunts have always inspired me to base my artworks on Southern expressions and idioms. I may start with a particular vision based on a southern expression or childhood memory, only to encounter some unexpected epiphany, or the discovery of a unique or rare fabric leading me into a completely new direction.
My goals for future works have to do with how I communicate my ideas metaphorically through fabrics. I look forward to art making techniques that place more emphasis on the manipulation and marking of fabrics such as the destruction and re-addressing of materials pertaining to textiles.
Education

2004-2007 Winthrop University, M.A.Ed. Art Education, Rock Hill, SC
Art History/Art Studio. Thesis topic: Duality: Coexistence of Freedom and Constraint.
(The Influences of African Aesthetics in Southern Black Art) GPA 4.0.
1990-1993 University of North Carolina. B.S. Art Education, Charlotte, NC
Art Education/Art studio/Art History magna cum laude.
1986-1988 Central Piedmont Community College, AA Degree, Advertising Design, Charlotte, NC
1975-1979 Morgan State University. B.S. Psychology Baltimore, MD
Solo Exhibitions

2021 Ancestral Threads, Sumter Gallery of Art (April-June) Sumter, SC
2009 Duality. One Women Show- Contemporary fiber works depicting Yoruba inspired Egungun masquerade costumes. Dalton Gallery-Rock Hill, SC (April-June)
2007 White Plains, Central Piedmont Community College (Jan.-March) Charlotte, N.C.
Juried

2019 Coined In The South, Mint Museum, Charlotte, NC (Sept.1-March 6)
2018 29th International and National Exhibition, Viridian, New York, NY
2013 Beyond the Curve: Celebrating Women's Vision, Civic and Cultural Arts Center, Pineville, NC
2012 Small Stories, Connective Threads, Brooklyn, NY
2012 15th Open International, Woman Made Gallery, Chicago, IL
2009 The 20th International Juried Show, Viridian Artists Gallery (June 30- July 18) New York, NY
2007 CMS Art Teacher Exhibition, Art Institute of Charlotte (Oct-Dec)
Group Exhibitions

2022 Women in Art! Chloe Gallery, San Francisco, CA
2022 Still Standing,Brooklyn Collective, Charlotte,NC (March-May)
2021 Coup D'Etat, Art Basel Miami, Miami, Florida (Dec. 1-4)
2021 Visual Vanguard, H.B. Gantt Center, Charlotte, NC, (Aug.-Jan.)
2020 The Soul of Brooklyn, Intersection Gallery, Charlotte, NC, (Sept.-Dec.)
2020 Perspective and Prose, SOZO Art Gallery, Charlotte, NC, (March-June)
2019 New works/Alumni 2, McColl Center for Art, Charlotte, NC, (Jan.-May)
2019 Quilting the World's Conscience: Gallery Exhibit, Texas Folk Life Gallery, Austin, Texas, (Feb.-May)
2019 Yours for Race and Country: Reflections on the Life of Colonel Charles Young, National Afro American Museum and Cultural Center, (Aug.-On Going)
2018 Visioning Human Rights and the New Millennium, Fitton Center for Creative Arts, Hamilton, OH (Aug-Oct.)
2005 Figures and Forms: 3-D Adventures with Space, A juried show. Awarded Juror's Pick Award, Afro-American Cultural Center (Nov-Dec)
2003 UNCC Alumni Invitational Exhibition, Rowe's Art Gallery- Charlotte, NC (Jan-Feb)
2002 Stitches in Time, Greenwood Cultural Center, Tulsa, Oklahoma (permanent display)
2001 Winter Artist in Resident, McColl Center for Visual Art, Charlotte, NC (2001)
2000 Spirits of the Cloth: Contemporary African American Quilters, Mint Museum of Craft and Design, Charlotte, NC. The Wanda Montgomery Memorial Expression Exhibition (Quilt dedication) Afro-American Cultural Center, Charlotte, NC (Permanent display)
Awards/Honors
2018 Viridian 29th International and National Juried Exhibition: First place
2012 Gail Peacock Teacher's Travel Award
2008-2018 National Board Certified/Renewal
2005 Juror's Pick Award
2001 Residence at McColl Center for Visual Arts
1999 Regional Artist Grant- Arts and Science Council
1999 Merit Award- Gaston County Museum
1996 Curators Choice- Afro-American Cultural Center
Press Release / Publications
2022 Roberts,Liza. Art of the State:Celebrating the Visual Arts of North Carolina. Chapel Hill, North Carolina, p.64
2022 "Ancestral Thread Lines". Art Quilting Studio, Autumn issue 3, p.40-45
2022 "Around the World". Quilting Diary, Summer issue 5, p. 65-64
2022 "Who is the Future of Quilting". Spoonflower, Sherri Lynn Wood: Blog. March 16
2021 " Five Textile Artists Exploring Contemporary Quilting". Culture magazine, Kendra Walker: Instagram. May 26
2021 " Our Own Stories", Uppercase Magazine, issue 51,p.42-47. September 12
2021 "Sew and Tell", American Patchwork and Quilting, issue 170,p.96. April 2
2020 "Curated section," Create Magazine, volume 19, 2018p.188-190. Jan. Create Magazine
2019 Fitton Center for Creative Arts," Explore the Visioning Human Rights Exhibit, Hamilton, Ohio August 9
2019 McColl Center for Art and Innovation, "Create Your Own Quilt." McColl Center, May 10
2019 Dr. C.L. Mazloomi. Visioning Human Rights and the New Millennium 2019 p. 160-161
2018 Dr. C.L. Mazloomi. Yours for Race and Country: Reflections on the Life of Colonel Charles Young, 2019. p.19
2018 Shantay Robinson, "The Quilting Tradition.", November 9 Black Art in America, Columbus, GA.
2018 Shantay Robinson, "10 Emerging Black Female Artists to Collect.", Black Art in America, Columbus, GA, June 14
2018 Press Release, Viridian 29th International Juried Exhibition, New York, NY, June 18
Art Catalogues
2022 Stephen Hayes, David Wison, " Visual Vanguard",Charlotte, NC, Feb. 2
2018 Linda Luise Brown, "UNCC Roderick Mackillop Memorial Alumni Art Exhibition Review", Charlotte, NC, March 16
1996 Harry Harrison, "Evidence of a Culture Breaking the Silence", Pineville, NC, June 7
Television
2021 3 WBTV, "interview "Artist finds Family Connection", Charlotte, NC, April
2020 3 WBTV," interview "Exhibit Tells Legacy", Charlotte, NC, November 11
2006 Charlotte-Mecklenburg School Broadcasting TV, Interview "Above and Beyond", Charlotte, NC, Jan-Feb
2001 Karen Keith, Interview, Oklahoma Living, Tulsa, Oklahoma, May
News Articles
2021 Sumter Item, " Exhibition Explore Memory", April 5
2020 Charlotte Observer, " Exhibit shows legacy of Charlotte's uptown Brooklyn neighborhood". October 11
2012 Charlotte Observer, "Retired Art Teacher Rewards Others with Cultural Trips." March 26
2009 Charlotte Observer, "CMS Global Spin On Education." April 19. p.1R
2005 Charlotte Observer, "Art Teacher's Quilts Win Award." November 13. p. 4H
2003 Charlotte Observer, "Reunion for Graduates of Arts Programs." January 19. p.2H
2001 The Oklahoma Eagle, "Stitches in Time." May 10.p.2A, Creative Loafing, "New Blood At The Tryon Center." Feb. 3.p.10
2000 Charlotte Observer, "Someone You Should Know," August 27. p.2B
Workshops/Lectures Facilitated
2022 Workshop: Harvey B. Gantt Center, "Ancestral Quilts", Charlotte, NC Feb.
2022 Podcast: Foster, Zak. "Seamside," Feb.5, Sunday, 11:59 est.
2021 Lecture: SOZO Art Gallery, "Uppity: The Blacker the Berry", Charlotte, NC July
2019 Lecture: McColl Center for Art and Innovation," Stimulus: Creations In Threads", Charlotte, NC June
2019 Workshop: McColl Center for Art and Innovation," Create Your Own Quilt", Charlotte, NC, May
2007 Lecture: Clinton College, Rock Hill, SC- "Duality", May
2001-2002 Demonstration: New Museum of the South, Charlotte, NC, Dec-Feb
2001 Workshop/lecture: Greenwood Cultural Center- Tulsa, Oklahoma, Aug
2001 Workshop: Mint Museum of Art- CMS Teacher, Charlotte, NC, Aug
2000 Workshop: Afro-American Culture Center- Common Threads, Charlotte, NC, March
Read More