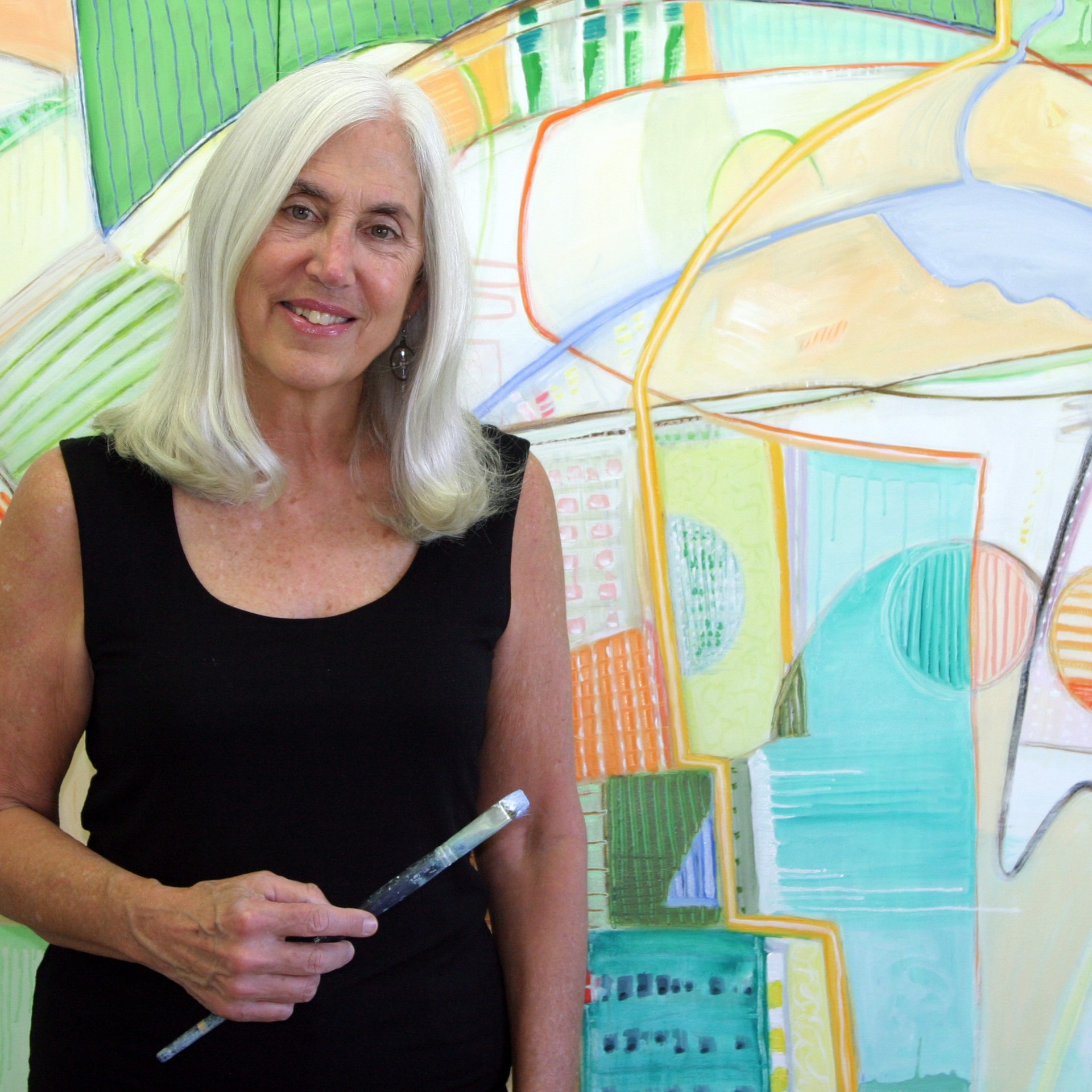 CHRISTINE WALKER (b. 1948, American)
Christine Walker is a visual artist and writer. She works in oils and also in mixed media and monotype on paper, investigating a visual vocabulary inspired by nature and movement, while seeking resonance with an inner landscape. Her interdisciplinary career as an artist, author, and creative consultant encompasses design, strategic visual facilitation, and teaching. She exhibits her paintings in galleries, museums, and corporate and private collections.
My painting has long been informed by the interplay of humans within their environments. Early in my career, this sensibility was nourished by a love of dance and collaboration as a stage designer with contemporary choreographers. I have painted water, woods, streets, gardens, and landscapes that include figures at work and play, or the human presence may only be implied through associations with the elements that appear in the painting. The painted image speaks a language that spoken or written words cannot express, but in my heart and mind there is always a narrative threading through and tying my engagement with the visual. Discovering what is there leads to expansive moments of clarity and joy. It is for these moments that I paint.
For the past several years, I've been working on a series I call "Terrains," which begin with quick sketches of the landscape below while looking out from my airplane window seat. I notice how the earth's large gestures embrace small clusters of human activity, how arabesques of roads follow and intersect with meandering rivers, how patterned fields juxtapose with one another and with built structures, how the serenity of bays and lakes contrasts with the cacophony of cities and tangle of freeways. In the studio, I make small watercolors, developing compositions based on the sketches, and then move to oil paintings, relying on visual memory of place seen from above, along with emotion and invention. Painting is about what we notice and choose to show to others. When I paint I think about the big issues of climate and environmental degradation, as well as human ingenuity, persistence of community, resilience and hope. What appears on the canvas is the painter's journey, giving the viewer a place to go.
The power of art is to make us see. We crave meaning, look for it, and shape it to our heart work. Once, while on a plane descending to land on a runway surrounded by fields, I overheard a man in the seat behind me say to his young daughter, "Look, you can see the airport." She said, "Yes, Daddy. And I can see the grass too!"
As Teilhard de Chardin said, "We are not human beings on a spiritual journey, we are spiritual beings on a human journey."
CHRONOLOGY
Christine Walker was born in Kansas City, Missouri, in 1948, and was raised in Shawnee Mission, Kansas. She was encouraged in the arts as a child and in her early 20s began exhibiting her paintings and prints in galleries, museums, and corporate and private collections. She came to San Francisco in 1977, where she ran a graphic design business and made paintings of people moving in environments—pedestrians, swimmers—and of images from islands and wild landscapes. In 1990 she began growing a small urban garden as subject matter for her art, and in 1994 she moved with her family to Sonoma County, where a perennial garden and surrounding landscape profoundly influenced her painting. She continues to be inspired by nature—earth, sky, and water—in her current series of paintings informed by aerial landscapes.
Her book, "A Painter's Garden: Cultivating the Creative Life" (Warner, 1997) was inspired by her journal sketchbooks, which document her inquiries into creative process, and by gardening, which provides a metaphoric framework for the essays. Illustrated with her paintings and drawings, the book was reviewed as "Intelligent, evocative, elegant, and articulate...the parallels between lessons in the garden, the studio, and life ring true..." (Eleanor Coppola, filmmaker, author) and "...you can almost run your fingers through the richness of experience, insight, and caring that makes art and beauty possible..." (Sonoma County Independent). Christine is also the illustrator and co-author of Wooleycat's Musical Theater, (Tortuga Press, 2003) a children's book with song CD.
Christine has an MFA in Writing and Literature in Fiction from Bennington College in Vermont, an MA in Creative Arts Interdisciplinary from San Francisco State University, and a BFA from the University of Kansas. She has been self-employed since 1977 as an artist, writer, creative consultant, designer, teacher, and strategic visual facilitator. She is married to composer and musician Dennis Hysom. They live in Sebastopol, California.
Education
2006 MFA Writing and Literature in Fiction, Bennington College, VT
1980 MA Creative Arts Interdisciplinary, San Francisco State University, CA
1973-75 Kansas City Art Institute, Kansas City, MO
1970 BFA University of Kansas, Lawrence, KS
Career
(concurrent occupations)
Visual Artist
Strategic Visual Facilitator
Creative Consultant & Designer
Author and Teacher
Solo Exhibitions
2010 Entwined by Nature, Falkirk Cultural Center, San Rafael, CA (3-person show)
2004 Abandoned Gardens, Rogue Community College, Grants Pass, OR
2001 Abandoned Gardens, 45 Fremont Building, San Francisco, CA
2000 The Orchard Drawings, studio exhibition, Sebastopol, CA
1998 A Painter's Garden, AirTouch Communications, Walnut Creek, CA
1997 A Painter's Garden, Niebaum-Coppola Winery, Rutherford, CA
1996 Fertile Ground, The Quicksilver Mine Company Gallery, Sebastopol, CA
1995 A Painter's Garden, Sun Cities Art Museum, Sun City, AZ
1990 Pedestrians, 201 Convention Plaza, San Francisco, CA
1986 Island Songs, Bank of America Plaza Gallery, San Francisco, CA Harbors, Zephyr Gallery, San Francisco, CA
1980 Swimmers, New Performance Gallery, San Francisco, CA
1978 Off-Hand Gestures, New Performance Gallery, San Francisco, CA
Group Exhibitions
2009 Auberge du Soleil Gallery, I Wolk Gallery, St. Helena, CA
2008 Auberge du Soleil Gallery, I Wolk Gallery, St. Helena, CA
2007 Auberge du Soleil Gallery, I Wolk Gallery, St. Helena, CA
2006 Auberge du Soleil Gallery, I Wolk Gallery, St. Helena, CA
2005 Auberge du Soleil Gallery, I Wolk Gallery, St. Helena, CA
2005 Guest Artist, Graton Gallery, Graton, California
2004 Auberge du Soleil Gallery, I Wolk Gallery, St. Helena, CA
2003 Quicksilver Mine Company Gallery, Forestville, CA
Fortune, Cultural Arts Council of Sonoma County Gallery, Santa Rosa, CA
Auberge du Soleil Gallery, I Wolk Gallery, St. Helena, CA
2001 SFMOMA Artists Gallery program, San Francisco, CA
2000 Trees, Quicksilver Mine Company Gallery, Sebastopol, CA
1998 City Life, 425 Market Street Gallery—The Shorenstein Co., San Francisco, CA
San Francisco Museum of Modern Art Rental Gallery, San Francisco, CA
1997 Garden Impressions, Hewlett-Packard, Palo Alto and San Jose, CA
1996 Linked by Gesture, Downtown Dance/Art Space, Sebastopol, CA
Landscapes, Quicksilver Mine Company Gallery, Sebastopol, CA
Big Fruit & Big Flowers, Cultural Arts Council of Sonoma County, State Building, Santa Rosa, CA
1994 Art as Food for the Eyes, Student Union Art Gallery, San Francisco State University, SF, CA
1992 Gump's Gallery, San Francisco, CA
Art in Embassies program, U.S. Department of State
1991 Gump's Gallery, San Francisco, CA
1990 Viewing Landscapes, Gump's Gallery, San Francisco, CA
San Francisco Museum of Modern Art Rental Gallery, San Francisco, CA
Earth Day, South Bay Green Alliance, San Jose State University, CA
Group Show, Synopsis, Mountain View, CA
Bay Area Artists, 3 Com, Santa Clara, CA
1989 Bay Area Artists, Cadence Design Systems, San Jose, CA
Faber Birren Color Award Show, 9th Annual, Stamford Art Assoc., Stamford, CT, Juror: Charlotta Kotik Kimball's East / Benefit Family House, Kimball's East Jazz Club, Emeryville, CA
1987 Group Show, Zephyr Gallery, San Francisco, CA
1986 Three Painters, Yorkville Vineyards, Yorkville, CA
1985 Bathers, Olive Hyde Gallery, Fremont, CA
1982-86 San Francisco Open Studio, San Francisco, CA, solo shows in studio
1984 Great Gifts in Small Packages, San Francisco Art Commission Gallery, SF, CA
1981 Three Painters, Xerox Research Center, Palo Alto, CA
San Francisco Open Studio, S.F., CA, solo show in studio & juried show San Francisco Museum of Modern Art Rental Gallery Program, SF, CA1977 Women Artists '77, University of Missouri Kansas City Art Gallery, KC, MO
Juror: Miriam Shapiro
30 Miles of Art, Nelson Gallery of Art, Kansas City, MO1974 Plaza Art Fair, Kansas City, MO
Selected Collections
Apax Partners, Menlo Park, CA
BankAmerica Corporate Art Collection, San Francisco, CA
Charles Schwab, Palo Alto, CA
Kaiser Permanente, Hayward, CA
Kaiser Permanente, Union City, CA
Merrill Lynch, Los Angeles, CA
Seward & Kissel, New York, NY
The Woodsmall Insurance Companies, Kansas City, MO
Wilson Sonsini Goodrich & Rosati, Palo Alto, CA
Wright, Robinson, Osthimer & Tatum, San Francisco, CA
Published Books
"A Painter's Garden: Cultivating the Creative Life", Warner Books, 1997, Author and Artist
"Wooleycat's Musical Theater", Tortuga Press, 2003, Co-author & monotypes
Juried Publications
American Artwork, 2018, Alcove Media, Jurors: Howard Edge, California College of the Arts; Jan Christensen Heller, Chistensen Heller Gallery
Studio Visit, Open Studio Press, Volume 13, 2011, Juror Beth Venn, Curator of Modern and Contemporary Art, Senior Curator of American Art, The Newark Museum
Articles
Lina Knoop, Happinez Magazine, "Wo Alles Zu Sein Beginnt…" ("Where Everything Begins to Be…"), Jahrgang 8, Nummer 5, 2017, Bauer Media, Hamburg, Germany
San Francisco Chronicle July 28, 2000
The Press Democrat, May 7, 2000, Santa Rosa, CA
Miriam Silver, The Press Democrat, Santa Rosa, CA, "Art Finds A Place to Call Home in Sonoma," December 24, 2000
San Francisco Chronicle, March 11, 1998
Kansas City Star, February 3, 1998
San Jose Mercury News, March 13, 1998
Sonoma County Independent September 11-17, 1997
Sun Cities Independent, "Memory of Light," July 19, 1995, Sun City, AZ
Daily News-Sun, Sun City, AZ , "Trio of Artists," July 13, 1995,
The Phoenix Gazette, Phoenix, AZ, "Three New Exhibits," July 7, 1995
Les Krantz, California Art Review, Second Edition, 1989, American References Inc., Chicago, IL
The Newsday Magazine, Long Island, New York "Aerial Snapshot," August 2, 1987
Marilyn Tucker, San Francisco Chronicle, "Way's Laundry Is a Winner," June 29, 1987
Allan Ulrich, San Francisco Examiner, "ODC Ending Its Season in a Most Satisfying Way," June 29, 1987
Janice Ross, The Tribune, Oakland, CA, "ODC Creates Dance that's Deft, Clean and Fresh in 'Laundry Cycle,'" June 29, 1987
Charles Shere, Oakland Tribune, Oakland, CA, "Studio Tours Showcase Where Art Is Going," October 27, 1986
Kenneth Baker, San Francisco Examiner, "An Invitation From the City's Artists," October 12, 1986
Contemporary Exhibitions, San Francisco open Studio 1986, catalog
San Francisco Chronicle, October 17, 1986
Al Morch, San Francisco Examiner, "It's Open House Time at 144 S.F. Artists' Studios," October 17, 1986
Pamela Reasner, Time Tribune, Palo Alto, CA, "Robot Learns Modern Dance in Abstract 'Invisible Cities,'" December 9, 1985
Edward Booth-Clibborn, American Illustration Annual 1985, juried competition
Communication Arts, Illustration Annual 1984, juried competition
Judith Rohrer, Artweek, "Exhibitions," October 4, 1980
Read More