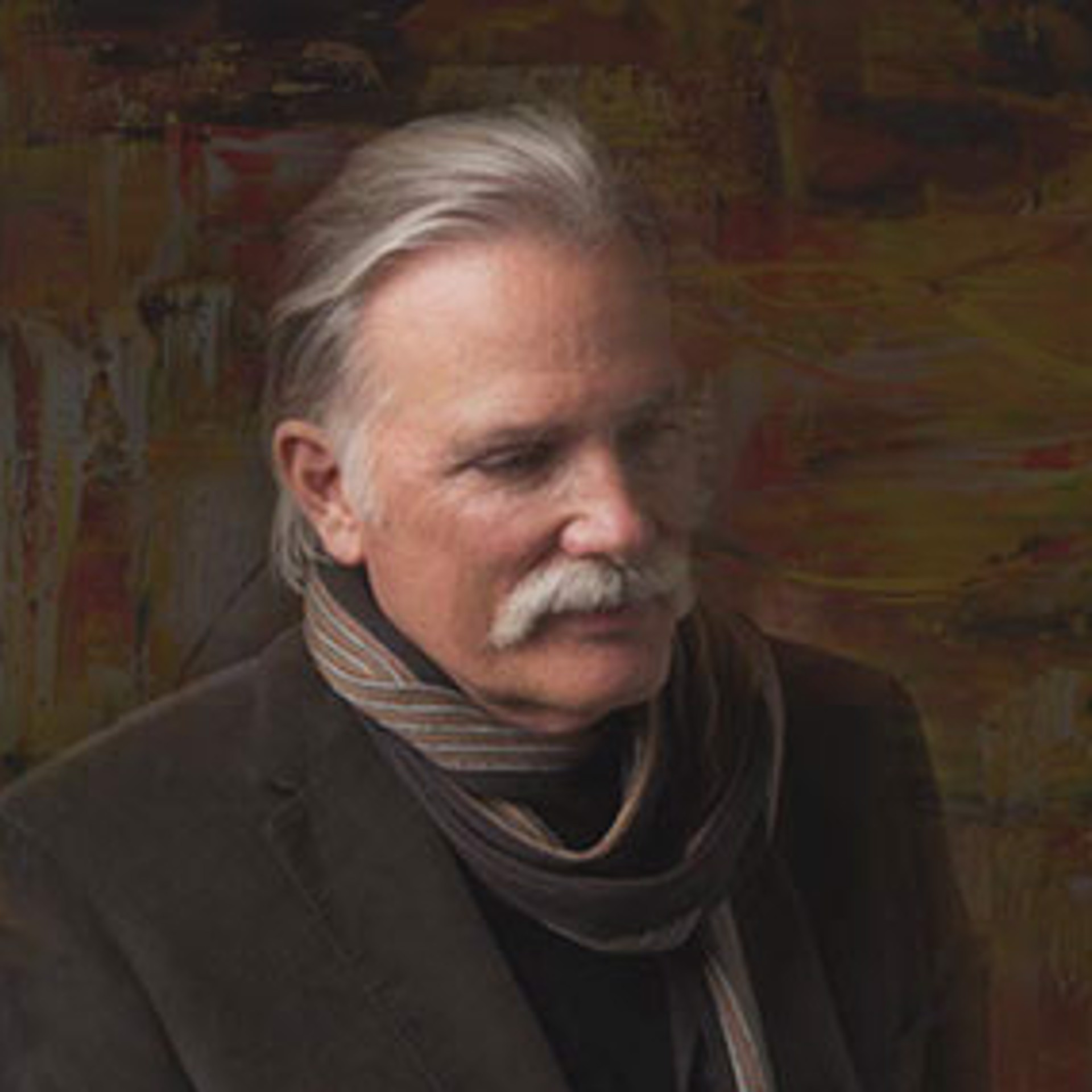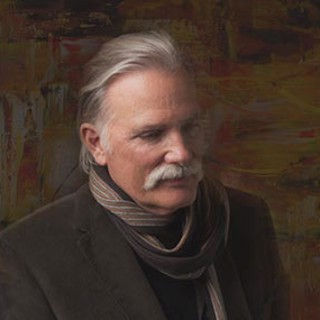 JAMES C. LEONARD (b. 1949, American)
James Leonard has emerged as one of California's leading abstract expressionist painters. Leonard's emotionally charged compositions, which at first appear purely abstract, often suggest embedded landscapes, figures, and objects. Working with acrylics on canvas or board, Leonard uses bold horizontal and vertical strokes and variegated color to suggest different moods, seasons, registers, art historic resonations, etc. While one work might convey a lacy, Rococo, light decorativeness, another might seize the viewer with high-contrast lights and darks and drastic strokes in a Baroque manner, deep with gravitas. "Just as our lives unfold in unique and beautiful ways, so do my paintings have their own unique and individual expression. Most artists work from the outside in, the subject is outside of themselves. I work from the inside out," says Leonard.
Abstract Expressionism or Action painting, which had its beginnings in Surrealism in Europe of the 1930s, came to full fruition in New York of the 1940s and '50s in a group called the Abstract Expressionists. Influenced by the Surrealists, who had re-settled in NYC due to Germany's occupation of France, this younger generation of Americans is responsible for giving the U.S. its first 'home-grown' school of international art. Just as Jazz music was the first totally American musical form of international proportions, so Abstract Expressionism was a uniquely American language of art, which influenced artists on every continent. Even Picasso had to retort with his near-abstractions of the 1970s!
Most artists work with brushes, while Leonard works with extended palette knives. "I'm pulling paint, layering one layer at a time, which creates a sense of history in the painting. It's like looking at a fence post that's been repainted over a period of time. You can see the different colors and layers." In art-speak, this geometric depth of ground is known as 'push-pull.' What first appears as the 'background' may suddenly exceed to the forefront of the painting, while what a second ago seemed like the forefront, recedes. "Great art is such a surprise. It's so enchanting, so delightfully unexpected and unpredictable. In order to create that, you have to drop the concept of imposing what you think it should be, and allow the work to evolve in its own way. That requires all the skills of listening, allowing – learning to quiet that part of our mind that is constantly telling us how things should be. For me, that's the essence of creativity."
"Leonard's compositions are non-representational and move the viewer's eye vertically or horizontally across the space. This basic movement is complicated by layers of dropped, speckled, and fragmented colors that infuse not only a rich language of color, but also a visual history left to be discovered by the eye as it moves across the surface. Leonard's inventive layering process results in heavy impasto, or textured surfaces with a glossy, wet shine, making them particularly beautiful when seen in person." – Urban Tulsa Weekly, 2010
"There can be thirty or forty layers in one painting, creating the feeling of a 'waterfall.' As a final touch, Leonard employs a technique he calls 'sgraffito' – scraping lines through the upper layers, so the colors of the ground layers show through. It's a technique that demands courage and conviction; one misstep can destroy an entire painting." – Art writer, critic, and curator Dallas Faulkner
EDUCATION
1976 Bachelor of Fine Arts, Fresno State University, Fresno, CA RECENT
EXHIBITIONS RECENT EXHIBITIONS
2019 Art Market San Francisco, Chloe Gallery
2018 Summer Art and Winemakers' Dinner Exhibition, San Francisco, Chloe Gallery
2017 Art Market San Francisco, Chloe Gallery MUSEUM & JURIED EXHIBITIONS & PRIZES
2013 San Diego Contemporary Art Fair, CA
2012 Art Basel Miami, FL
2012 Bold Expressions International Exhibition, Carmichael, CA
2010 Andrews Art Museum, solo exhibition, Andrews, NC
2006 All-Abstract Show, Valley Art Gallery, "Second Place Award"
2005 Alameda Art Center, Contemporary Abstracts, Juror: Kenneth Baker, San Francisco Chronicle Art Critic
2004 San Diego Museum of the Living Artist, 47th Annual International Juried Award Exhibition, "Award of Excellence," CA
2004 Albany Museum & Institute of History and Art, NY
2002 Bellevue Art Museum, Bellevue, WA
2001 Palm Springs Desert Museum, 32nd Annual National Juried Exhibition, "Artists' Council Award," CA
2000 San Diego Museum of Art, All-California Exhibition, "Silver Award," CA
1999 The Artist's Magazine, "The Best of Art Competition, Experimental Category"
CRITICAL REVIEWS
2012 Galleries West Magazine Valley Sentinel, Pleasanton, CA
2010 Artnews Magazine Urban Tulsa Weekly, Tulsa, OK
2008 Bottom Line, Palm Desert
2006 Contra Costa Times
2004 San Diego News
2000 Laguna News Post
1999 The Artist's Magazine, Best Art of Art: Experimental Category, "Honorable Mention" www.about.com
1998 The Santa Fe New Mexican The Guild Art Expressions Magazine
1997 St. Louis Post Dispatch
PHILANTHROPIC DONATIONS
USC/LAC Medical Center, Los Angeles, CA
HIV/AIDS Foundation, Houston, TX
Larry King Cardiac Foundation, Auction, Beverly Hills, CA
World Vision Inc., NYC, NY
Open Hands Project, Santa Fe, NM Joe Morgan Invitational, Oakland, CA
Canadian Cancer Society, Vancouver, B.C. Brevard Alzheimer's Foundation, Inc.
Summit Bank Foundation, Oakland, CA
Parkinson's Foundation, San Jose, CA
Make-a-Wish Foundation, San Francisco, CA Sunnyhills Children's Garden, San Anselmo, CA
Mt. Diablo Ballet, Walnut Creek, CA
Habitat For Humanity, Mt. Diablo, CA
Lycée Français, La Perouse, San Francisco, CA
CORPORATE & PUBLIC COLLECTIONS
LAX Hyatt Hotel, Los Angeles, CA 3-1 Corporation, Waltham, MA
Abry Partners, Boston, MA
Acadian Asset Management, Inc., Boston, MA
Adobe Systems, San Francisco, CA
Alumax Corp. Headquarters, Atlanta, GA
Andrew Spangler, Spangler Law P.C., Longview, TX
Appia Developments, Vancouver, Canada
Arthur Anderson, San Francisco, CA
Ascent Art Ventures, LLC., Dallas, TX
Axis, Hamilton, Bermuda Biogen Inc., Cambridge, MA
Boston Stock Exchange, Boston, MA
Brookfield Power, Marlborough, MA
Brookstone Inc., Amherst, NH
Burns & Levinson, Boston, MA
CB Richard Ellis, Walnut Creek, CA
Cetrulo & Capone, Boston, MA
Color Kinetics, Boston, MA
College Park Music Dept., Pleasant Hill, CA
Computer Associates International, NYC, NY
Cornnuts Toasted Corn, Oakland, CA
DDJ Capitol, Boston, MA
Deloitte Consulting, Boston, MA
Driscoll Agency, Boston, MA
Dwyer & Collora, Boston, MA
Edinboro University, Edinboro, PA
Edwards & Angell, Boston, MA
Ellen O. Tauscher, Congresswoman, 10th District
Epstein Becker & Green, Boston, MA
Factory Motor Parts, St. Paul, MN
Fairmont Waterfront Hotel, Vancouver, Canada
Fenway Ventures, LLC., Boston, MA
filmtwist.com, San Francisco, CA
Flanders, Douglas & Associates, Minneapolis, MN
Florida Credit Union, Tallahassee, FL
FM Global, Waltham, MA
FSP Phoenix Tower, Ltd., Houston, TX
Goodwin, Procter & Hoar, Boston, MA
Hadco, Canton, MA Hale & Dorr Law Offices, Boston, MA
Harvard Vanguard Medical Assn., Boston, MA
Hyatt Regency, Vancouver, Canada
Hinkie & Foran, Tallahassee, FL
Hoffman Companies, Boston, MA
Inn At The Opera Plaza, San Francisco, CA
Interface Consulting Int., Houston, TX
Integrated Financial Partners, Boston, MA.
LOI, Inc., Boston, MA
Issacson Miller, Washington, D.C.
Jack Morton Worldwide, Boston, MA
Joule Unlimited, Inc. Bedford, MA
Kaiser Permanente Hospital, Vallejo, CA
Kim Copeland Productions, Nashville, TN
Larson-Juhl Corp., Craig & June Ponizo, Atlanta, GA
Lifoka Grafische, Den Haag, Holland Loews Hotels, NYC, NY
Looper, Reed, Mark & McGraw, Houston, TX
Marriott Copley Place, Boston, MA
Mathematica Policy Research, Washington, D.C.
Mayer, Brown, Rowe, & Maw, Washington, D.C.
Meany & Oliver, McLean, VA MFA
Moody, Famigliette & Andronico, Tewksbury, MA
Mirion Technologies Inc., San Ramon, CA
MIT, Cambridge, MA Mopar, Detroit, MI
Motorola Company, Dallas, TX
NASA, Stennis Space Center, Starkville, MS
National Development, Boston, MA
Pacific Union Real Estate, San Francisco, CA
Palmer & Dodge, Boston, MA
Pilko & Associates, Houston, TX
Prince, Lobel, Glovsky & Tye, Boston, MA
Sage Hill Partners, Cambridge, MA
Sanford Bernstein, San Francisco, CA
Schnaeder, Harrison, Segal & Lewis, Law Offices, Atlanta, GA
SCM Microsystems, Los Gatos, CA
Scudder, Stevens & Clark, Boston, MA
Shire Pharmaceuticals, Boston, MA
Simplex Inc., Boston, MA
Skadden, Arps, Slate, & Flom, Boston, MA
Sky Across, Tokyo, Japan
Soundboard Consulting Group, LLC, Boonton Township, NJ
Stonebridge Associates, Boston, MA
Summit Bank, Oakland, Walnut Creek & Emeryville, CA
Sunset Magazine Idea House, 1999 Symantec Corporation, NYC, NY & Cupertino, CA
Thomas Mizo Chadwick, Saylor & Co., Los Angeles, CA
isbury Capital, Boston, MA
Total System Services, Columbus, GA
Tufts Dental School, Boston, MA
Unicco, Auburndale, MA
USAA Law Offices, San Francisco, CA
Washington Real Estate Investment Trust, Rockville, MD
Wilmer Hale, NYC, NY
Yale University, New Haven, Connecticut
Read More