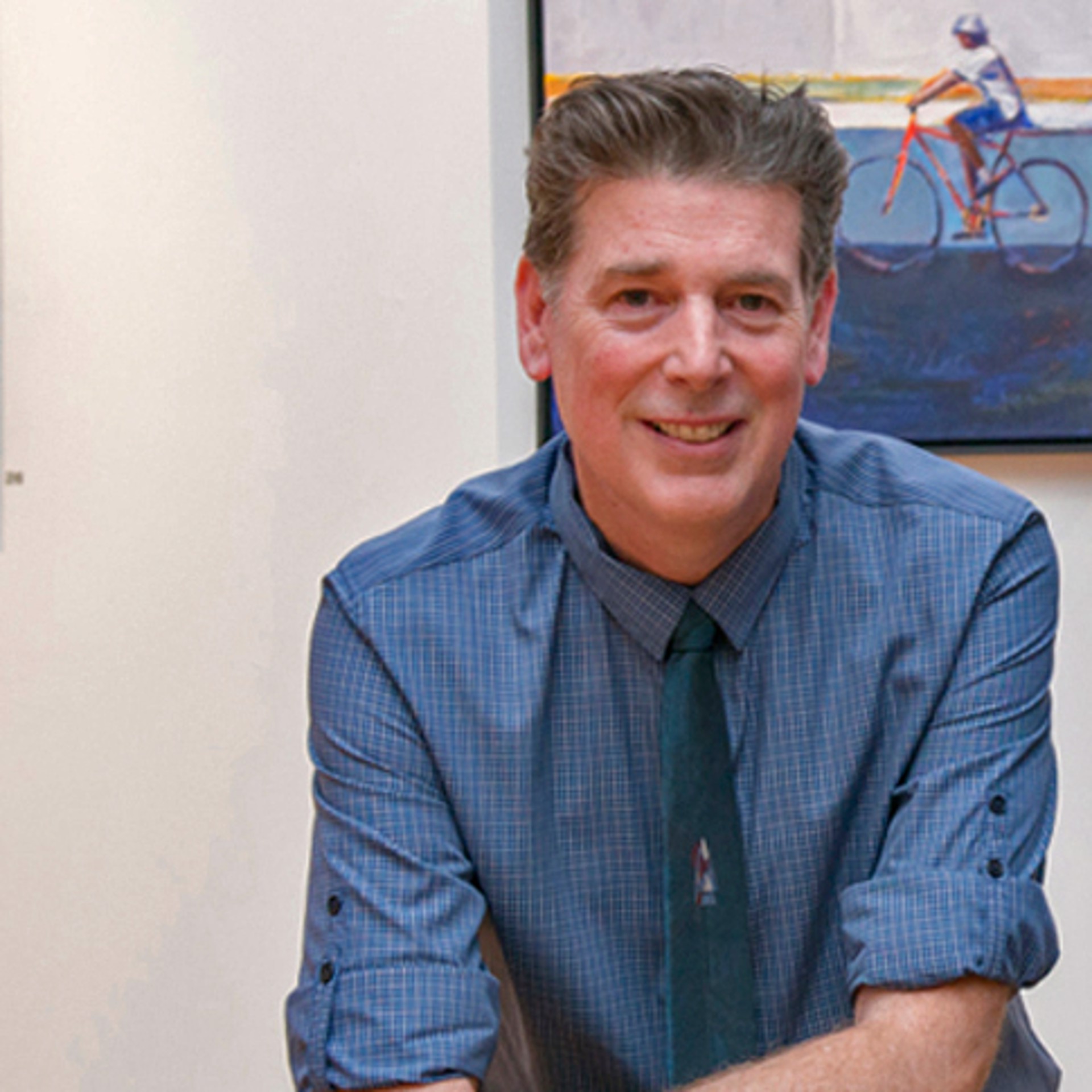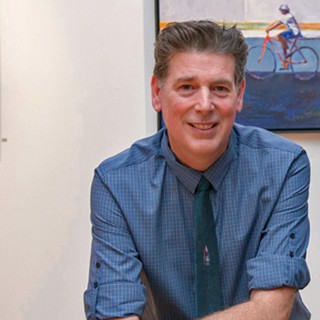 TIMOTHY MULLIGAN (American)
Timothy Mulligan attended Sacramento City College and received a degree in Fine Art from CSU, Sacramento. He studied under notable artists as Greg Kondos, Gerald Walburg, Peter VandenBerge, Laureen Landau, Larry Welden, Jack Ogden, Frank LaPena, and Steve Kaltenbach.
After receiving his degree, he worked as a printmaker creating etchings and prints, and produced several watercolors, pastels, and large pencil drawings. He exhibited his earlier works at the Crocker Art Museum, the Haggin Museum, the California State Fair, and several local art galleries.
In 2011, after taking a long break to teach his two children at home, grades K-12, Timothy returned to art to pursue his passion to paint on canvas. He finds his inspiration in the landscapes, cityscapes, and waterscapes. Timothy's paintings have been exhibited in museums and galleries throughout California and across the nation. He has received numerous awards, and since 2014, he has been featured in multiple issues of The Artist's Magazine and Southwest Art Magazine. His work has also been published in American Art Collector, International Artist Magazine, and on numerous covers of Inside Publications Magazine. His paintings are in the collections of the City of Sacramento, the Sacramento City College Permanent Collection, and private collectors throughout the country.
I first began by painting the local scenes of Northern California in an Impressionist style, but realized that I wanted to express more of myself within the painting. I was then drawn to the Bay Area Figurative Movement and the artists within the movement. These artists used the painting style of abstract expressionism to that of the figure and landscape. For me, this painting style felt like a new and different kind of Impressionism but with no boundaries or rules. It was like a new world to explore and discover. I no longer wanted to just paint a subject as I saw it, but to reimagine it in my mind, and paint it with brilliant and unexpected colors, flat planes, and colorful lines.
Artist Statement
I paint Landscapes, Waterscapes, and Cityscapes, in a style I call "Raw, Real, and Reimagined". They are original compositions of "Real" subjects that combine the influences of the "Raw," expressive paint style of the Bay Area Figurative Movement with the hyper colorful effects of the Northern California painters.
After finding an interesting and unique composition, I "Reimagine" the scene to discover the essence of a subject by first reducing all of the unnecessary information to its basic and essential shapes. To push beyond the familiar world, I create luscious planes of uniform color, and highlight its linear structure to strengthen the composition. I experiment using colorful lines to separate shapes, create halo effects, and enhance shadows.
Unlike traditional landscape paintings that were painted in a horizontal format, I prefer to paint vertical landscapes to give them an interesting and unique perspective. I continuously explore the effects of color, light, and shadows, and experiment with new techniques to develop my own artistic language and style. The final painting blends reality with subtle abstraction to create a unique and personal vision.
Solo Exhibitions:
2018 Colorful Escapes, Elliott Fouts Gallery, Sacramento, CA
2017 Between The Lines: California Landscapes & Cityscapes, Elliott Fouts Gallery, Sacramento, CA
2016 The Reimagined Landscape, Elliott Fouts Gallery, Sacramento, CA
2015 Raw, Real & Reimagined, Alex Bult Gallery, Sacramento, CA
Group Exhibitions:
2018 Art and Winemakers' Group Show: California's Influence on the Artist, Chloe Gallery, San Francisco, CA
2017 Crocker Art Museum 39th Annual Art Auction and Exhibit, May 18 - June 3, 2017
2016 Bit Of The Best, Shimo Center For the Arts, October 2016, curated by Moni Van Camp-Kondos 100 Years 100 Artists Group Show, Sacramento City College, August 22 - September 30
Delta Forever, California State University, Sacramento, Library, March 29 - April 23, 2016
Paso Robles Artsfest "Signature Exhibition" in Paso Robles, CA, May 25 - June 26, 2016
2015 85th Annual Landscape Exhibit, A Statewide Art Exhibit, Santa Cruz, CA, June 5 – July 5, 2015
Variations on Abstraction: 2010 - 2015, Transmission Gallery, Oakland, CA, November 6 -21, 2015
Delta Forever, Shimo Center for the Arts, June 12 - July 3, 2015
2014 184th Annual CA Statewide Landscape Exhibit "In a Golden State", Santa Cruz, CA, June 6 - July 6, 2014
58th Juried Exhibition, The Haggin Museum, Stockton, CA, August 7 - September 28, 2014
2014 Crocker Art Museum's Art Auction and Exhibit - Selected for the Live Auction
2013 Left Coast Annual Juried Exhibition, Sanchez Art Center, Pacifica, CA, April 12 - May 19
Lines and Colors Show: Celebrating Degas, Carnegie Museum, Turlock, CA, November 7, 2012 - February 3, 2013
Slice, A Juried Cross Section of Regional Art, Pence Gallery, Davis, CA, June 14 - Aug 11, 2013
2012 Rivers of Gold, California Art Club, BofA Gallery in Three Stages at Folsom Lake College, July 7 – September 2, 2012
27th Annual Gallery Route One Juried Show "Duration", Point Reyes, CA, December 16 – January 22, 2012
Awards:
2017 Finalist, The Artist's Magazine's 33rd Annual Art Competition
2016 Honorable Mention, Central Coast Wet Painting Invitational, Paso Robles, CA
Finalist, International Artist Magazine Challenge #95: Seascapes, Rivers & Lakes First Place, 86th Annual California Statewide Land and Sea Exhibit, Santa Cruz, CA
2015 Finalist, Artist's Magazine's 32nd Annual Art Competition
Honorable Mention, 85th Annual Landscape Exhibit, Santa Cruz Art League
Second Place, Lottery for the Arts, Blue Line Gallery, Roseville, CA
2014 First Place, Acrylics and Honorable Mention, Lodi Art Center's 54th Annual Spring Art Show Honorable Mention, 6th Annual Lottery for the Arts, Blue Line Gallery, Roseville, CA
2013 Finalist, Artist's Magazine 30th Annual Art Competition First Place, California Gold Category and Juror Award, KVIE Art Auction
First Place Award Acrylics, Northern Mines 30th Annual Exhibit at the Center of the Arts in Grass Valley, CA
First Place, Expressions! 22nd Annual Regional Exhibit of Fine Art, Tracy, CA
Second and Third Place Awards Acrylics, Lodi Community Art Center's 53rd Spring Art Annual
Second Place Award, Mother Lode Art Association 61st Annual Juried Art Exhibition - Sonora, CA
Second Place Award, Vernal Pool Visions: Art Celebrating Sacramento Valley Vernal Pool Prairies
Third Place Award, Slice: A Juried Cross-Section of Regional Art, Pence Gallery
Third Place Award, Along the Lincoln Highway, Auburn City Hall Gallery
Bold Award, 58th Bold Expressions International Exhibit, SFAC
First Place Award Acrylics & Honorable Mention, Lodi Art Center's 54th Annual Spring Art Show
Selected as a Top 10 Painting, Art Farm Juried Exhibition in Woodland, CA 2012 Best of Show, Mother Lode Art Association 60th Annual Art Exhibit, Sonora, CA
First Place, Award Oil/Acrylic, Vacaville Art League 35th Annual Art Show
Award of Excellence, NCA Bold Expressions 57th Annual International Open Exhibition
Award of Merit, Magnum Opus XXIX - SFAC
Selected Collections:
Hilbert Museum of California Art at Chapman University , Orange, CA

Read More