Amy Nelder at the de Young Museum
Amy Nelder's "Apples and Honey 2020" has been selected by the de Young Museum for the historic "The de Young Open", a celebration of the museums' 125th year anniversary. More than 11,000 works were submitted for the exhibition, with only about 850 works, less than 8 percent of submissions, were selected. Amy delivered the painting this morning under the dark rust-colored smoky San Francisco sky. "'Apples and Honey 2020' is both a somber and a tongue-in-cheek reflection on the holidays to come in this remarkable year ahead - from disinfecting a honey bear, to video-conferenced family dinners and rituals, to new ways of confirming and making meaning, connection, celebration and loss, holding fast to hope and faith." - Amy Nelder
Due to the uncertainty of the pandemic, the exhibition opening date is subject to the public health guidance and reopening plans of the City and County of San Francisco. As such, the exhibition dates are undetermined.
Amy Nelder's Covid19 series, centralized on the theme of how a mother/wife/businessperson/fine artist, balances the interior and exterior journey through the pandemic, has been widely and critically accepted. Earlier in 2020, her Covid19 series was discussed and pieces shown through Advancing Women Artists' The Garzoni Challenge, in partnership with the Uffizi and The Medici Archive Project, as well as the Walt Disney Family Museum's virtual exhibition, The World of Tomorrow.
Chloe Gallery is proud to represent Amy Nelder for the last 11 years.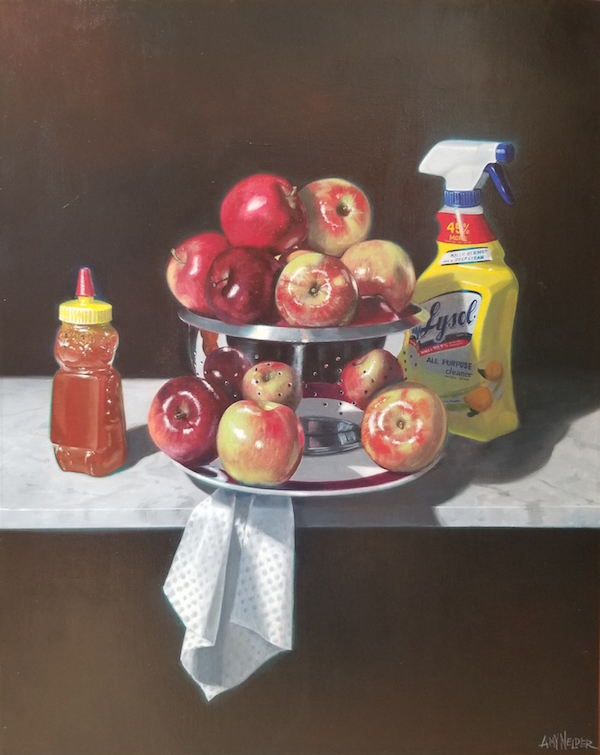 @deyoungmuseum #ThedeYoungOpen @amynelderart #gratitude #stilllifepainting #dutchstilllife #covid19art #covid19artistsathome #womenartists #womenartistsofinstagram #amynelderart #chloefinearts @chloefinearts #modernart #contemporaryart #contemporarypainting #popart #popartstyle #womenshistory #artathome #deYoungMuseum

Texas Contemporary art fair | Houston, Texas | 2018
We are just back from the Texas Contemporary where we exhibited, Amy Nelder, Isabel Emrich, Robert Bissell, Joe Coffey, Mark Gaskin, Carrie Graber and Rosana Sitcha. Thank you Texas for your warm welcome! The new pieces we showed at the fair by these artists are now on exhibit and available at the gallery.
Women in Art: GREAT Artists who just Happen to be Women

Chloe Gallery launches the first annual Women in Art exhibition honoring Women's History Month. In appreciation of the many vital roles of women in art history - from artist and muse to critic and collector - we celebrate our many female artists from emerging to museum-credentialed. At all the many points in their lives and careers, from deceased early 20th century Modernist Anna Walinska, to emerging painter Isabel Emrich, to Chloe Gallery's own Founder-Artist Amy Nelder, Chloe Gallery honors the great creations of our female painters and sculptors. Whether with a mural that uplifts a community, a painting that uplifts a family, or a sculpture that heals a loss, our artists have changed the world.
Opening: 3/1/2018 | Closing: 3/31/2018